Mexican Corn Salad is made with fresh produce like corn, tomatoes, and cilantro, then tossed with a creamy dressing. Serve this bright and fresh dish as a dip or side salad, or wrap it up in tortillas for a delicious dinner.
This street corn salad comes together in just a few minutes, and everyone will love it!
I love supporting our local farms and buying their excellent vegetables for easy summer dishes like this Mexican Corn Salad.
Local produce tastes so much better, and supporting farms in our community feels great.
Mexican Salad with Corn
There's nothing my family loves more than fresh corn on the cob. One of my favorite ways to use it is in this easy Mexican corn salad.
I love this recipe because you can serve the salad warm or make it ahead and enjoy it cold from the refrigerator. It's great for potlucks and BBQs as a side dish or dip, but we also love storing it in warm tortillas for an easy taco dinner.
Light and fresh Mexican corn salad with slices of summer-fresh watermelon and cantaloupe for dessert is the perfect way to enjoy a summer night.
How to Make the Salad
This salad gets rave reviews from my kids – they love to scoop it up with tortilla chips. Even my husband, who supposedly hates corn, loves it, and that says a lot! I love it when I can get him to taste and enjoy a dish he otherwise might not try.
There's a lot to love about it, too. It's a combination of fresh grilled corn with other vegetables all tied together in a creamy lime and chili dressing.
Here are the ingredients you'll need to make it:
Corn
Cherry tomatoes
Red onion
Crumbled queso fresco
Chili powder
Cumin
Sea salt
Jalapeno
Cilantro
Lime juice
Sour cream
First, grill the corn on the cob until it's lightly charred on all sides.
Once it's cooled, remove the kernels and mix them with all of the other ingredients in a large bowl until well combined.
You can serve it immediately or store it in the refrigerator later. It will keep for several days in an airtight container.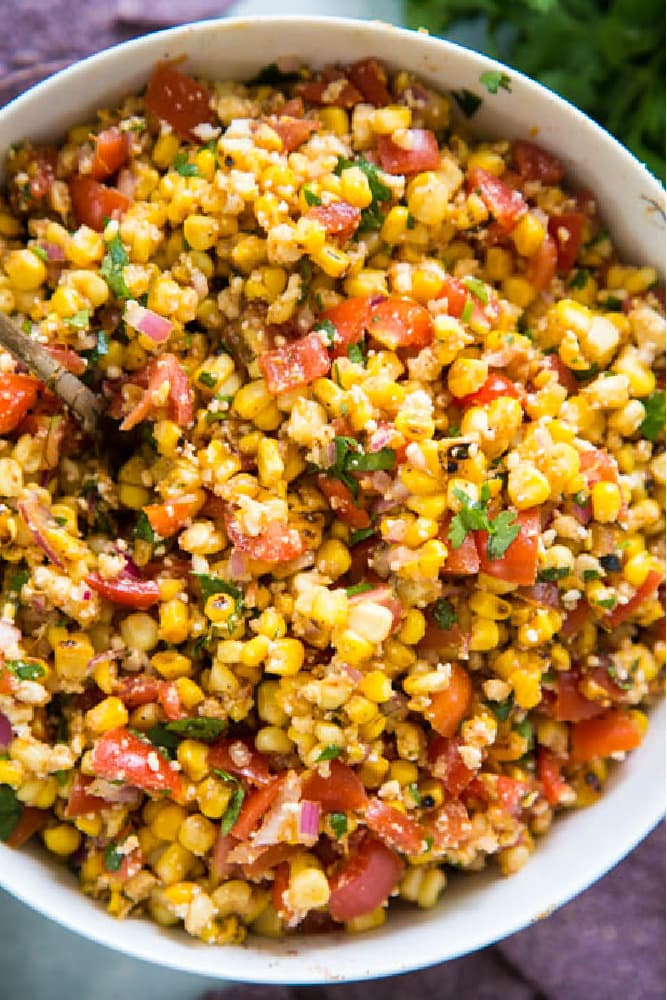 It's such a simple recipe, allowing all of the produce's flavors to shine. It's such a fantastic way to showcase fresh corn. Sometimes I omit the sour cream, and it's just as delicious.
Ideas for Serving Mexican Corn Salad
This is such a versatile dish and will fit in no matter the occasion. Here are different ways we've served it, and it's always a hit.
Serve it just as it is with a pile of tortilla chips for scooping.
Pile it in warm flour or corn tortillas for vegetarian tacos. Add your favorite toppings like lettuce, queso fresco, and salsa.
It's a side dish for grilled meats like steak, chicken, and pork.
Toss it with crisp greens like romaine, iceberg, or spinach for a delicious main course salad.
Pair it with fajitas, taquitos, or other favorite Mexican-style main dishes.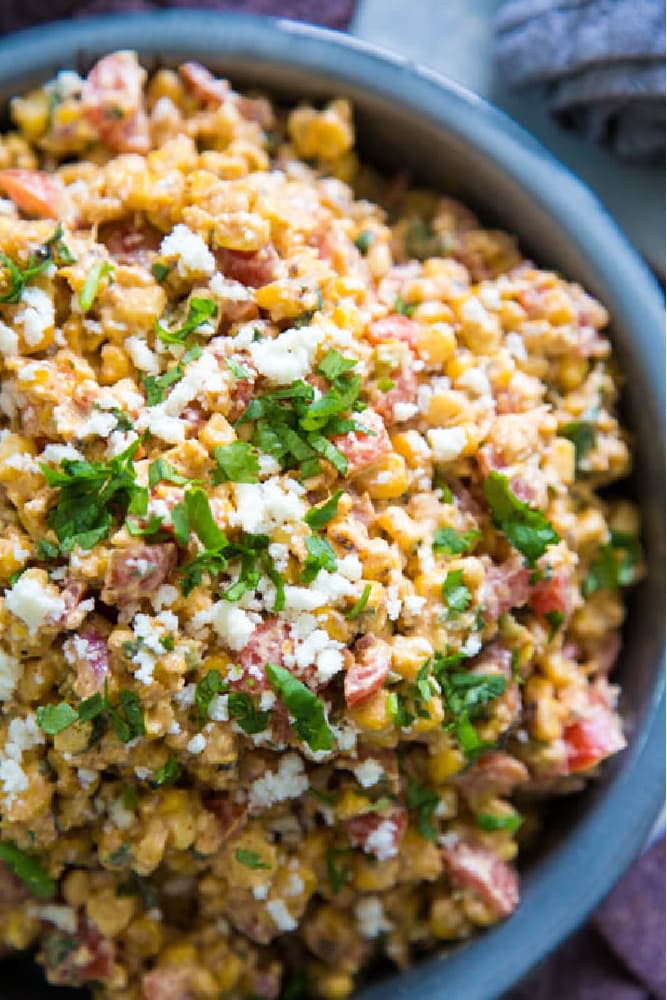 Here's to summer and delicious local produce. I hope you love this Mexican corn salad as much as we do. Enjoy! XOXO San
Don't forget to pin this recipe to your favorite Pinterest board for later.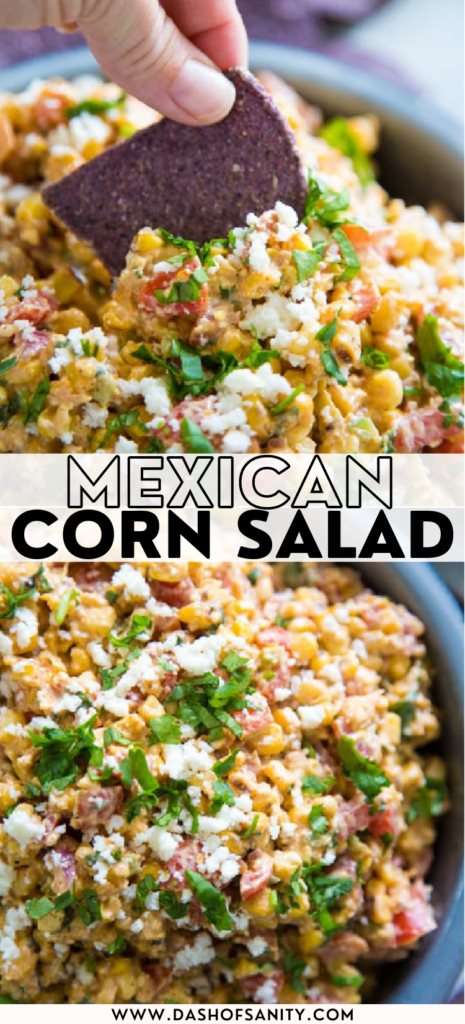 Print Recipe
Mexican Corn Salad
Mexican Corn Salad is a celebration of summer produce with fresh corn, tomatoes, cilantro, and a creamy sour cream dressing. Serve this bright and fresh dish as a dip or wrap it up in tortillas for a delicious dinner.
Ingredients
6

ears

corn on the cob

about 5-6 cups of kernels

4

cups

red cherry tomatoes

quartered

3/4

cup

finely chopped red onion

about 1/2 of a medium onion

3/4

cup

crumbled queso fresco,

plus 1/4 cup for topping (optional)

1 1/2

teaspoons

chili powder

3/4

teaspoon

ground cumin

1 1/2

teaspoon

taco seasoning

2

teaspoons

fine sea salt

1

jalapeno finely chopped, seeds and ribs removed

(optional)

3/4

cup

fresh cilantro

plus 1/4 cup for topping (optional)

1

tablespoon

lime juice

8

ounces

sour cream
Instructions
Preheat grill to high heat. Lightly coat the ears of corn with canola oil or canola cooking spray Cook them on the grill until the slightly charred on all sides, this will take 10-12 minutes depending on the heat of your grill. Rotate the corn every 2-3 minutes.

Allow the corn to cool. Meanwhile, combine red onion, tomatoes, cilantro, lime juice, chili powder, cumin, taco seasoning, salt, jalapeno (if using) in a medium mixing bowl.

Once the corn is cool, remove kernels from the cob and add them to the mixing bowl, Toss all of the ingredients together. Next, add in the queso fresco cheese and toss to combine. Then stir in the sour cream until combined. 

You can serve the salad right away or keep it covered in the refrigerator until you are ready to serve it. Just before serving, garnish it with the extra chopped cilantro and cheese. Serve it as a dip or as a taco filling. It's also delicious as a side dish for your favorite grilled meats or Mexican dishes.

Save