This is a sponsored post written by me on behalf of Safeway. All opinions are 100% mine.
Pumpkin Spice Buttercream Frosting is the perfect way to decorate your favorite fall cookies, cakes, and cupcakes!
It's rich and impossibly creamy and flavored with pumpkin spices. I'm showing you how to make it plus sharing all of my ideas for a fun and safe Halloween.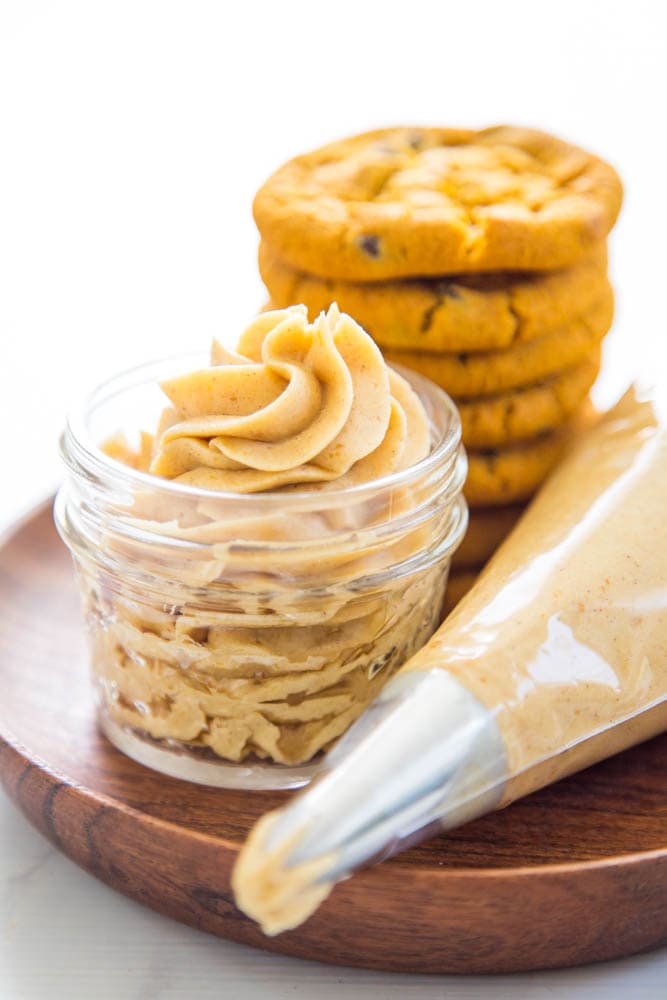 Like a lot of people, Halloween is a little different for us this year but I've put together some fun activities for the family that we are so excited about. So, while we won't be doing the standard trick or treating, I think we'll have just as much fun as we have in years past.
Safeway Has Everything You Need for Safe and Fun Halloween
Thank goodness for my favorite Safeway store! I've written about it before and I'll share it again: they have EVERYTHING you need for any holiday including Halloween!
I love that I can get my favorite Colorado-grown pumpkins for the porch, not to mention all of the other fun treats that are baked fresh in the bakery.
From candy to pumpkin carving kits and everything in between I love that I can count on Safeway to have everything I need. Especially this year, when things are just a little different than what we're used to.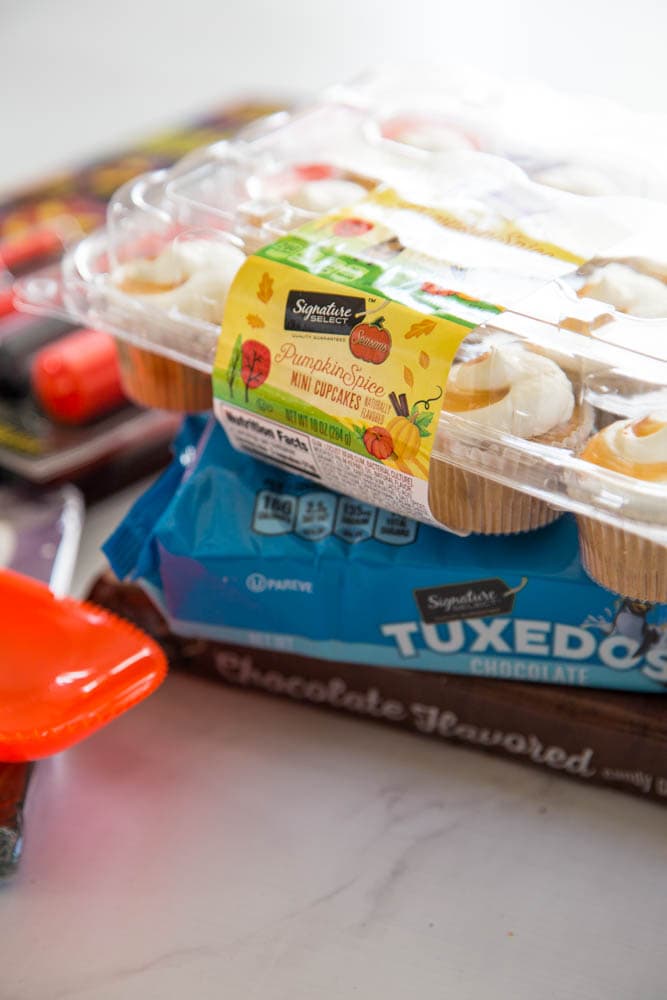 I absolutely love Safeway's Grocery Delivery and DriveUp & Go™ service, especially now that we're back to (virtual) school and life is so busy. I can shop on the app and have my groceries delivered or just swing by the store to pick them up at the curb.
It will be especially helpful this year because we're planning a fun Halloween scavenger hunt with our closest friends and their kids – I'll be making my blue-ribbon chili and green chili along with homemade cornbread for everyone. Knowing I can order all of the ingredients ahead and have it delivered will be such a time saver.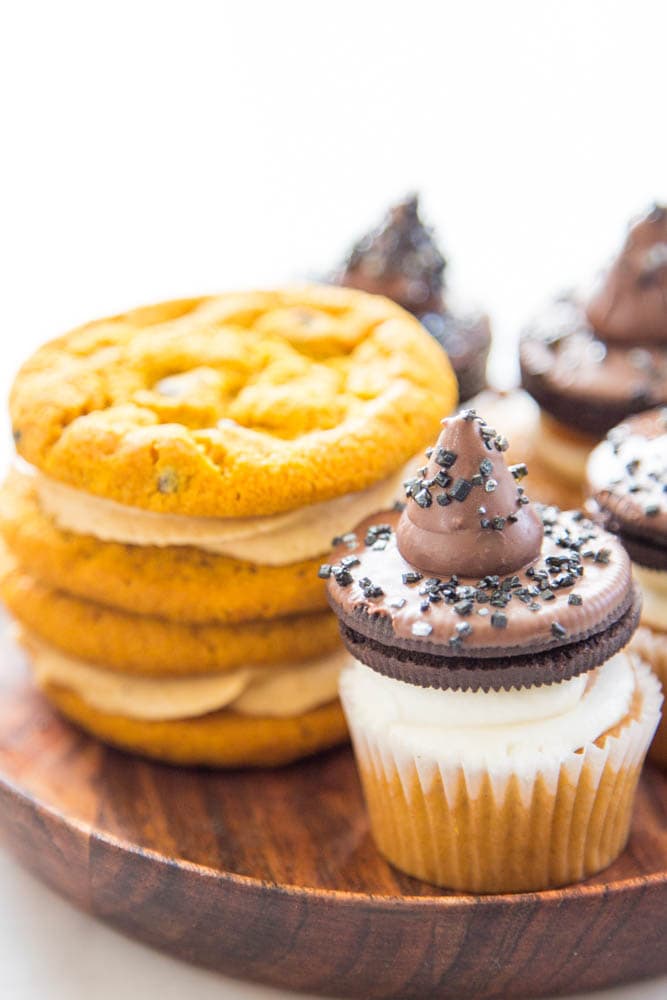 Of course, we'll load up on cupcakes and mini pumpkin caramels from Safeway, too, along with some adorable witch hat cupcake toppers that I plan to make.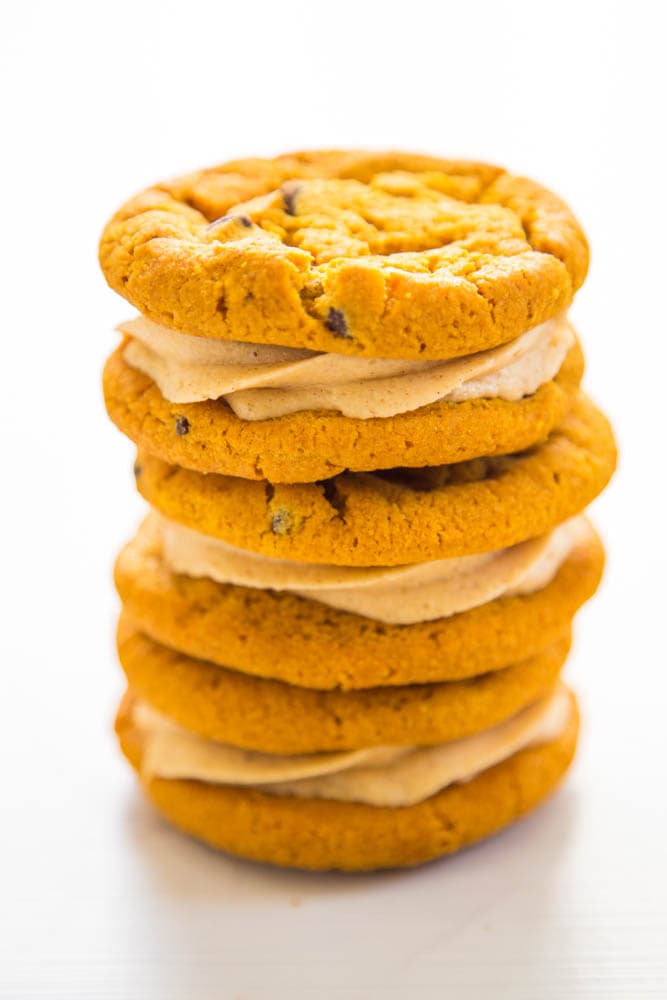 We'll also be having some fall-inspired sandwich cookies! To make things easy, I'm making a semi-homemade dessert with Safeway's pumpkin chocolate chip cookies I picked up in the bakery. For the homemade part, I'll sandwich them with a rich pumpkin spice buttercream frosting.
For the porch, I bought lots of pumpkins and gourds to decorate. The selection at Safeway is huge! Much of the scavenger hunt will be outside and I'm pretty sure some of the clues will be hidden among the pumpkins, but don't tell the kids!
Even though we won't be trick or treating, the kids won't miss out on the candy. Safeway has all the candy you need and this year we'll be doing a pinata so the kids still get their treats.
To finish the night, we'll have hot cocoa and apple cider with pumpkin whipped cream – all in all, I think it's going to be a fun and delicious Halloween!
Pumpkin Spice Buttercream Frosting
This frosting is perfect for dressing up store-bought treats. You get the touch of "homemade" but without having to spend hours making and baking cookies from scratch. Or use it to frost cupcakes and cakes – it's perfect for fall.
To make this, I just took my favorite buttercream frosting and gave it a pumpkin spice twist. It's easy to make and has the best texture that is creamy and smooth.
Room-temperature salted butter
Shortening
Vanilla extract
Pumpkin puree
Powdered sugar
Pumpkin Spice
Cinnamon
Milk or heavy cream
How to Make It
Beat the butter with the shortening and vanilla until well-combined. Add the pumpkin puree, pumpkin spice, and cinnamon and mix until combined. Slowly add the sugar in batches and beat well in between each addition.
If you want a rich frosting, I highly recommend using the heavy cream. If you prefer it a little lighter, use the milk instead! Beat whichever one you decide to use into the mixture and continue beating until the frosting is light and fluffy.
If your frosting is too thick you can add a little more milk or cream, but do this in small amounts until the frosting reaches your desired consistency.
Pumpkin Sandwich Cookies
This pumpkin spice buttercream frosting is a dream to pipe onto pretty much anything you like! It has the best texture and holds up well at room temperature.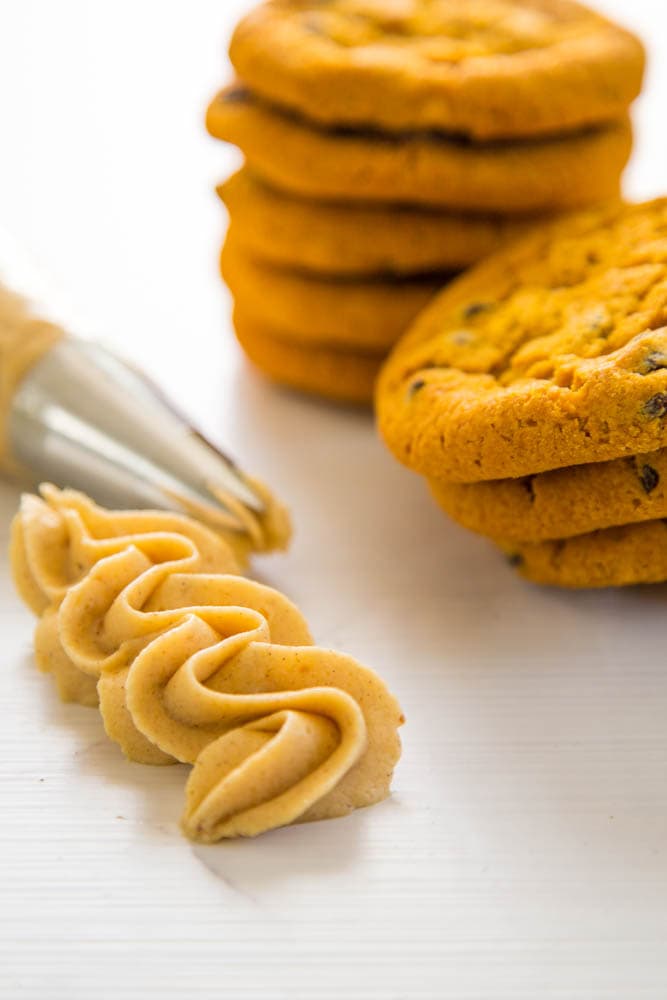 I used Safeway pumpkin chocolate cookies to make these cute sandwich cookies. Just pipe the frosting onto one cookie and then top it with another. It's so easy.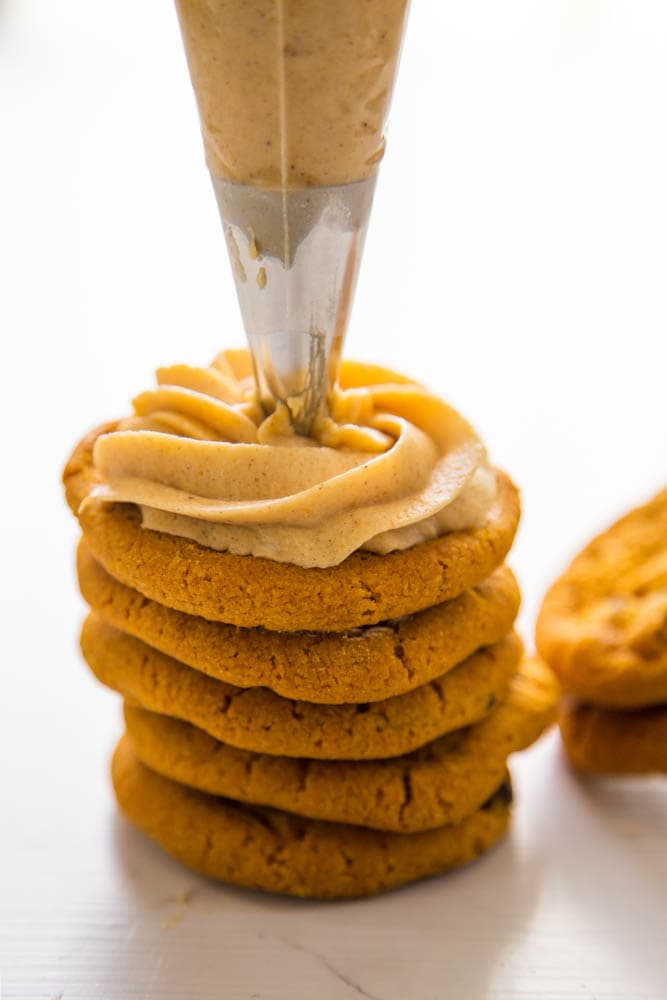 This year Halloween is shaping up to be one we won't forget! Between all of the pumpkin carving, sweet treats, and decorations I just know we're going to make some wonderful memories, even if it's a little different.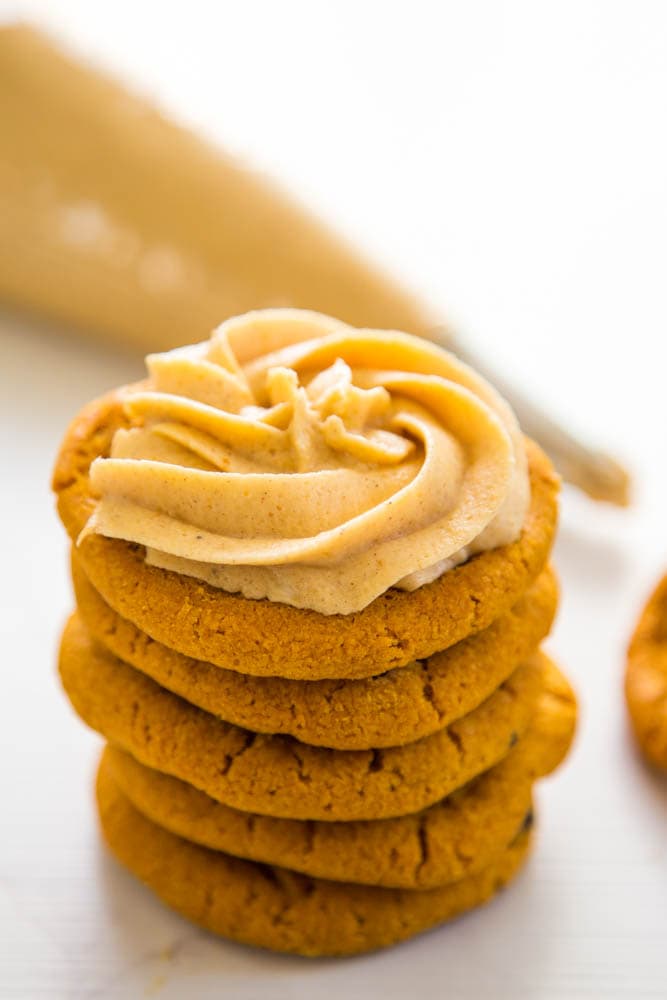 Safeway is making it so easy for us – I shopped at Safeway in my local area, but you can also find all of these products at the Albertsons Companies family of stores, including Albertsons, ACME Markets, Jewel-Osco, Vons, Randalls, Shaw's Supermarket, Star Market and Tom Thumb.
You can follow Safeway on Facebook, Twitter, and Instagram so you don't miss out on their amazing deals. Enjoy! XOXO San
Don't forget to pin this recipe to your favorite Pinterest board for later.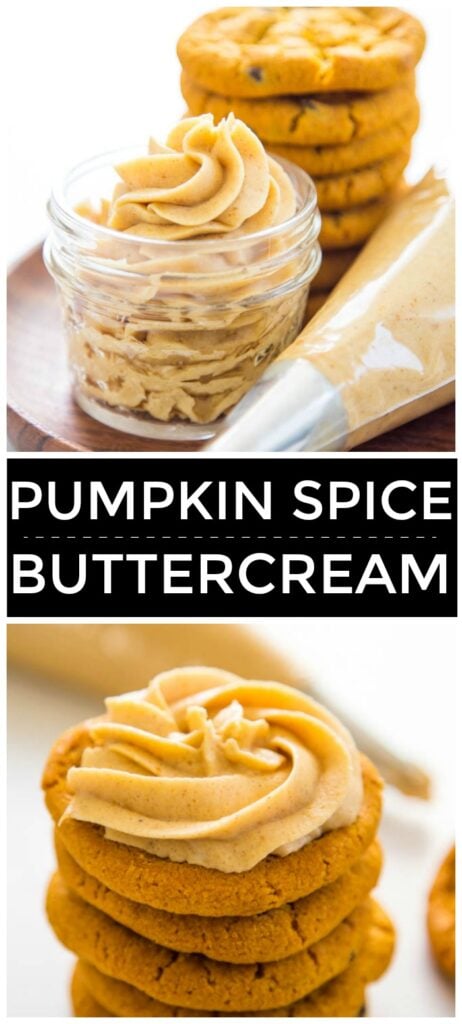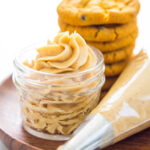 Print Recipe
Pumpkin Spice Buttercream Frosting
This buttercream frosting is perfect for all of your fall cupcakes, cakes and other desserts. It's rich, creamy, and flavored with fall spices.
Ingredients
1/2

cup

room temperature salted butter

1/2

cup

shortening

1

teaspoon

vanilla extract

4

tablespoons

pumpkin puree

(not pumpkin pie filling)

4 1/2

cups

powdered sugar

1 1/2

teaspoons

pumpkin spice seasoning

1

pinch

ground cinnamon

1

tablespoon

heavy cream or milk
Instructions
Using an electric mixer, beat together butter, shortening and vanilla until combined. Add the pumpkin puree and mix to combine.

Slowly blend in the sugar, one cup at a time, beating well after each addition.

Add the heavy cream (or milk) and beat until the frosting is light and fluffy. You may need to add more sugar or milk until you find the right consistency.

If you are not going to use the frosting right away, keep it covered until you are ready to use it.
Recipe adapted from my favorite buttercream frosting recipe.

Save