Pumpkin Spice Buttercream Frosting is the perfect way to decorate your favorite fall cookies, cakes, and cupcakes!
It's rich and impossibly creamy and flavored with pumpkin spices.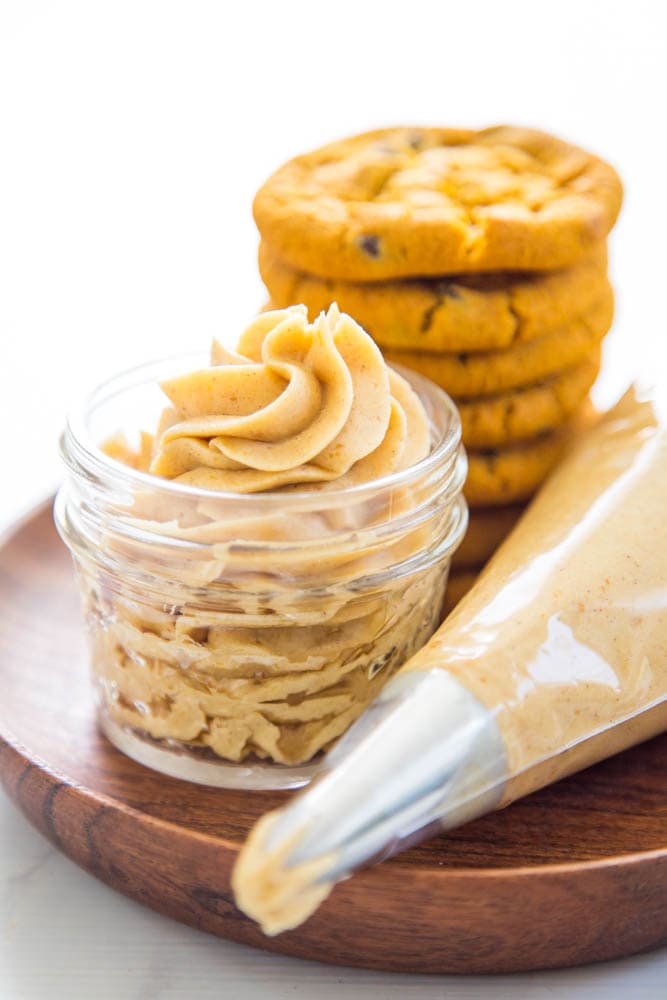 Like a lot of people, Halloween is a little different for us this year because as the kids get older, the holidays always seem to evolve. So, while some of them won't be doing the standard trick-or-treating, I think we'll have just as much fun as we have in years past.
I love that I can get our Colorado-grown pumpkins for the porch from our favorite local Pumpkin Patch, Bartel's Farms. It is our annual tradition and just loves it there.
We have our traditions we won't be changing which include me making my blue-ribbon chili and green chili along with homemade cornbread for everyone.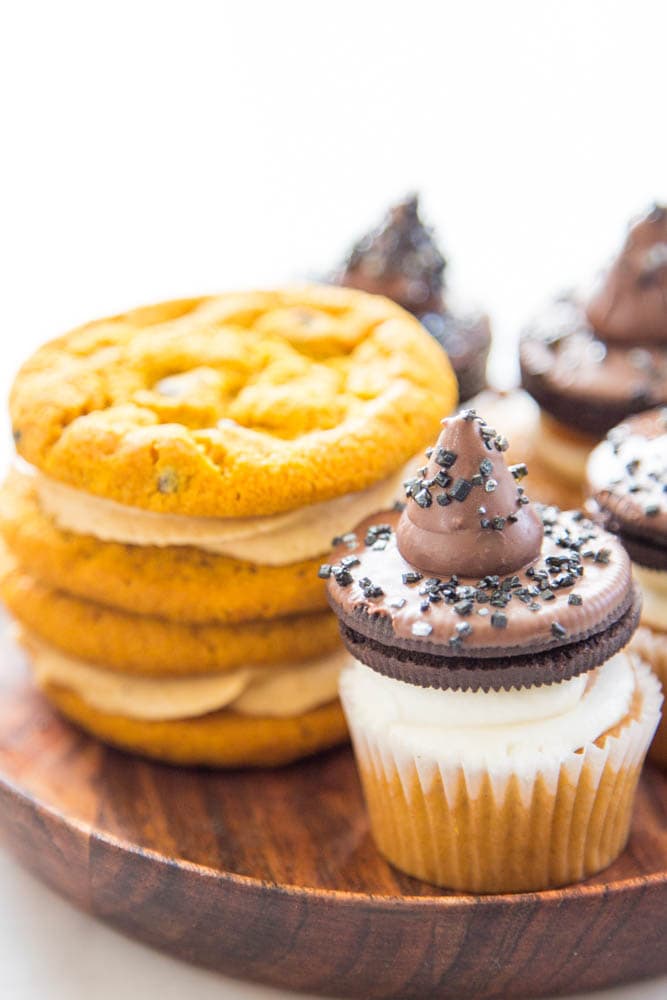 Of course, we love having homemade desserts, and making this pumpkin spice buttercream makes for delicious cookies and insanely adorable cupcakes which include semi-homemade witch-hat cupcake toppers.
For the porch, I bought lots of pumpkins and gourds to decorate. This year's scavenger hunt will be outside and I'm pretty sure some of the clues will be hidden among the pumpkins, but don't tell the kids!
Pumpkin Spice Buttercream Frosting
This frosting is perfect for dressing up store-bought treats. You get the touch of "homemade" but without having to spend hours making and baking cookies from scratch. Or use it to frost cupcakes and cakes – it's perfect for fall.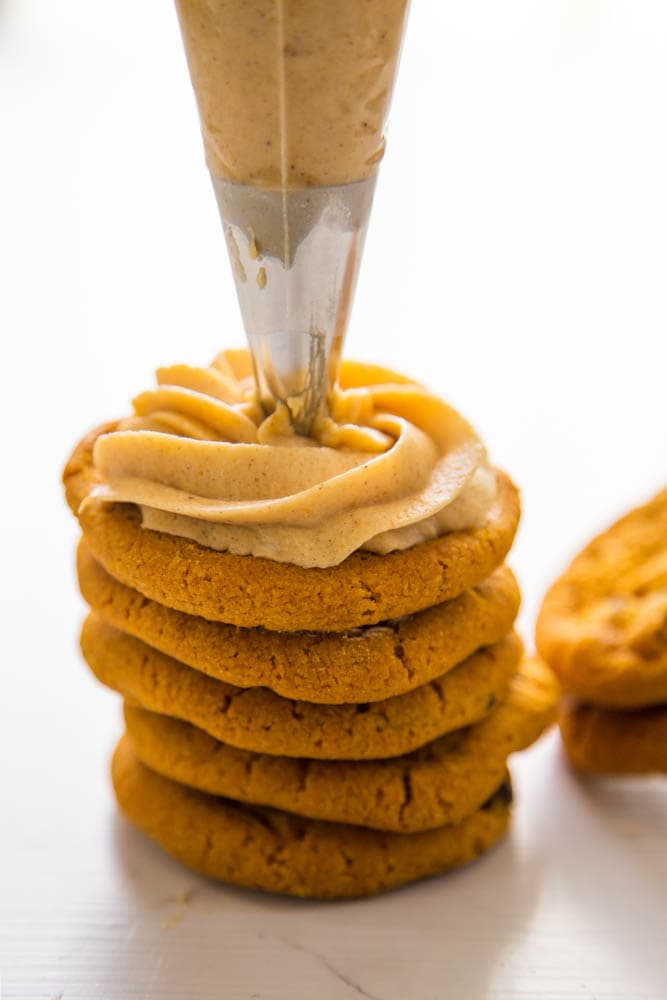 To make this, I just took my favorite buttercream frosting and gave it a pumpkin spice twist. It's easy to make and has the best texture that is creamy and smooth.
Ingredients
Room-temperature salted butter
Shortening
Vanilla extract
Pumpkin puree
Powdered sugar
Pumpkin Spice
Cinnamon
Milk or heavy cream
How to Make Pumpkin Spice Buttercream
Beat the butter with the shortening and vanilla until well combined. Add the pumpkin puree, pumpkin spice, and cinnamon, and mix until combined. Slowly add the sugar in batches and beat well in between each addition.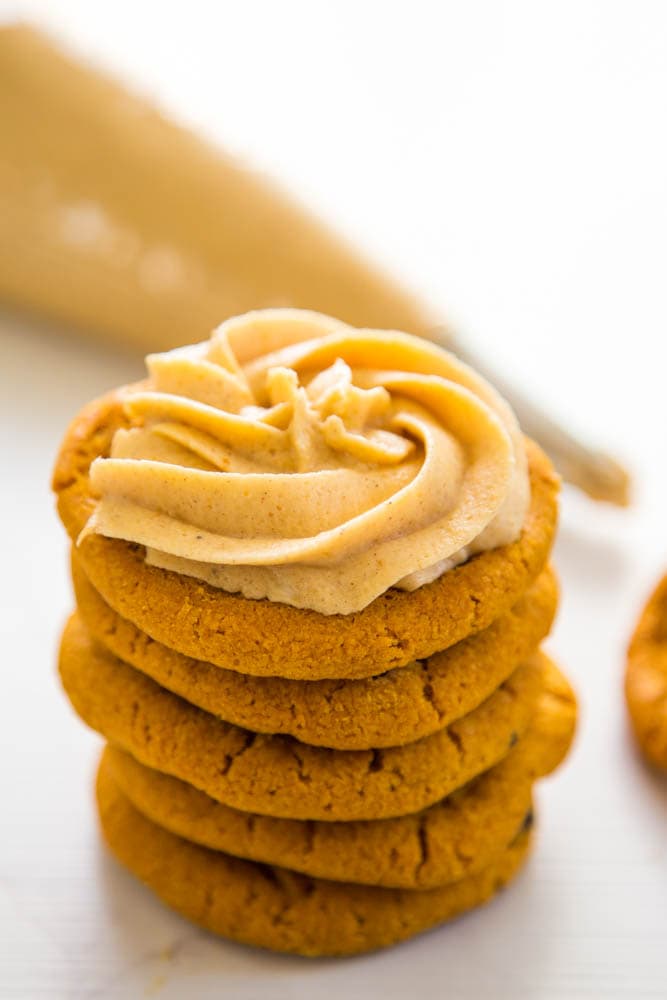 If you want a rich frosting, I highly recommend using heavy cream. If you prefer it a little lighter, use the milk instead! Beat whichever one you decide to use into the mixture and continue beating until the frosting is light and fluffy.
If your frosting is too thick you can add a little more milk or cream, but do this in small amounts until the frosting reaches your desired consistency.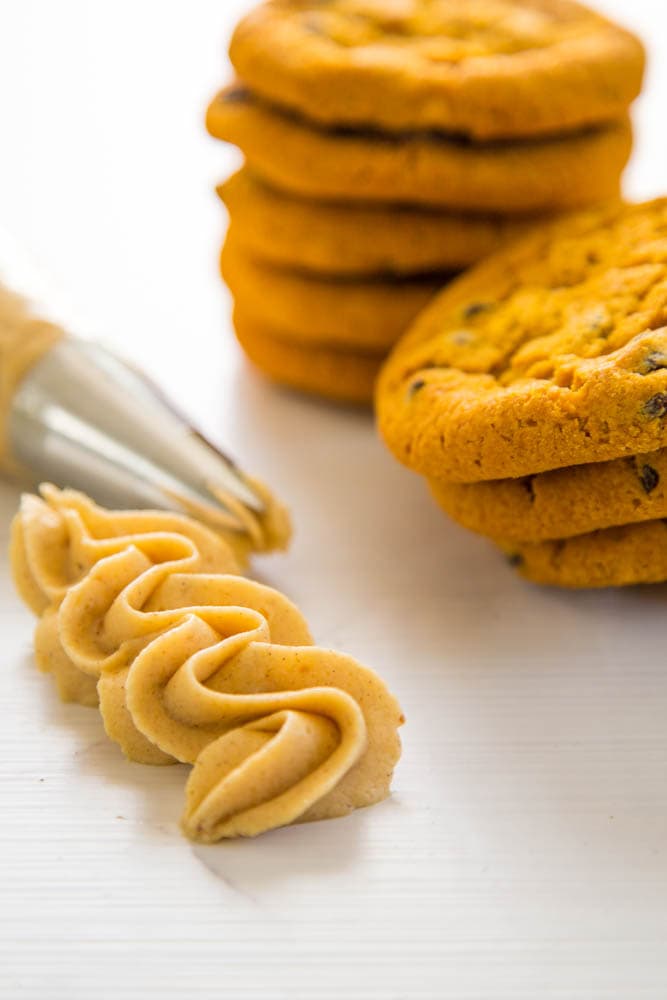 Recipe Tips
This pumpkin spice buttercream frosting is a dream to pipe onto pretty much anything you like! It has the best texture and holds up well at room temperature. Making sandwich cookies is so tasty, you can try either Pumpkin Chocolate Chip Cookies or Pumpkin Snickerdoodles to make these.
This year Halloween is shaping up to be one we won't forget! Between all of the pumpkin carving, sweet treats, and decorations I just know we're going to make some wonderful memories, even if it's a little different.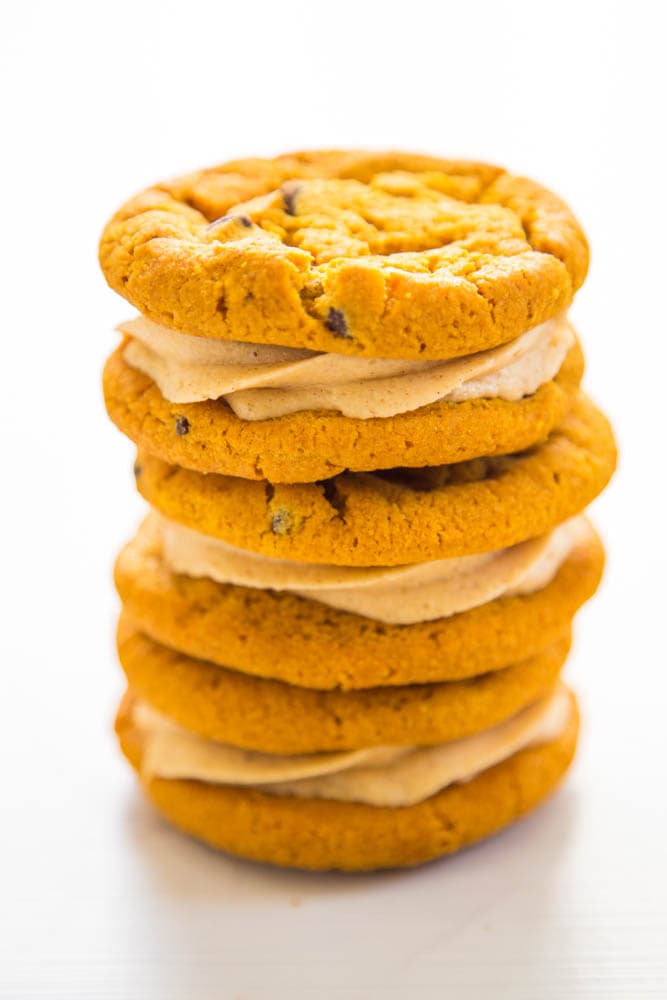 Don't forget to pin this recipe to your favorite Pinterest board for later.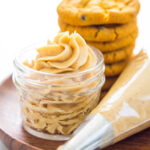 Print Recipe
Pumpkin Spice Buttercream Frosting
This buttercream frosting is perfect for all of your fall cupcakes, cakes and other desserts. It's rich, creamy, and flavored with fall spices.
Ingredients
1/2

cup

room temperature salted butter

1/2

cup

shortening

1

teaspoon

vanilla extract

4

tablespoons

pumpkin puree

(not pumpkin pie filling)

4 1/2

cups

powdered sugar

1 1/2

teaspoons

pumpkin spice seasoning

1

pinch

ground cinnamon

1

tablespoon

heavy cream or milk
Instructions
Using an electric mixer, beat together butter, shortening and vanilla until combined. Add the pumpkin puree and mix to combine.

Slowly blend in the sugar, one cup at a time, beating well after each addition.

Add the heavy cream (or milk) and beat until the frosting is light and fluffy. You may need to add more sugar or milk until you find the right consistency.

If you are not going to use the frosting right away, keep it covered until you are ready to use it.

Save