These Best Ever Soft Baked Chocolate Chip Peanut Butter Cookies are deliciously soft. Trust me, friends, these won't last long in the cookie jar.
These Chocolate Chip Peanut Butter Cookies are a deliciously simple, homey snack staple! They're super easy to make and they're great for the cookie jar or for gifting to family and friends.
I've made several versions of this chocolate chip peanut butter cookies recipe and today I'm sharing the all-around winner! This version is one my kids and I can all agree on – I can't say as much for previous ones. They were either too dry or not soft enough. But these cookies, my friends, are perfection.
They're the perfect soft peanut butter chocolate chip cookie for the cookie jar so the kids can help themselves to an after-school treat. They're also great for gifts – holidays, birthdays, or any old time you want to surprise a neighbor, friend, or family member with a batch of soft cookies.
As you probably already know, I love to bake cookies and nothing warms my heart more than to have a fresh-baked batch for the kiddos after school. These are at the top of the list along with monster cookies.
I love the chocolate peanut butter flavor combo and all they need is a cold glass of milk to go with them.
Recipe Notes
This is an easy recipe to make but plan ahead because you will need to chill the cookie dough overnight. This allows the wet ingredients to fully absorb into the dry ones so you get the best texture once they're baked.
I love these with chocolate chips, but there are other add ins you can use. Be sure to check out the variations section for ideas!
These keep wonderfully at room temperature – the best cookie for the cookie jar!
Ingredients
Softened butter
Packed light brown sugar
Granulated sugar
Creamy peanut butter
Large eggs
Egg yolk
Vanilla extract
Baking Powder
Baking soda
Sea salt
All-purpose flour
Semi-sweet chocolate chips
How do you make Chocolate Chip Peanut Butter Cookies?
Line two baking sheets with parchment paper and set them aside.
Sift the flour and baking soda into a small mixing bowl. If you don't have a sifter, whisk them to combine.
In a large bowl with a hand mixer or in a stand mixer with a paddle attachment, cream the butter, brown sugar, and granulated sugar at medium-high speed until light and fluffy.
Mix in the peanut butter, egg, and vanilla until combined. Scrape down the bowl as needed.
Add the dry ingredients to the wet ingredients and mix just until combined. Fold in the chocolate chips.
Cover the bowl and refrigerate the dough overnight.
Preheat oven to 350°F. Use a cookie scoop to form the cookie dough into walnut-sized balls. Place them two inches apart on the prepared cookie sheets. Gently press the cookie dough balls down slightly with the palm of your hand.
Bake the cookies for nine minutes. Do not overbake, they will set as they cool.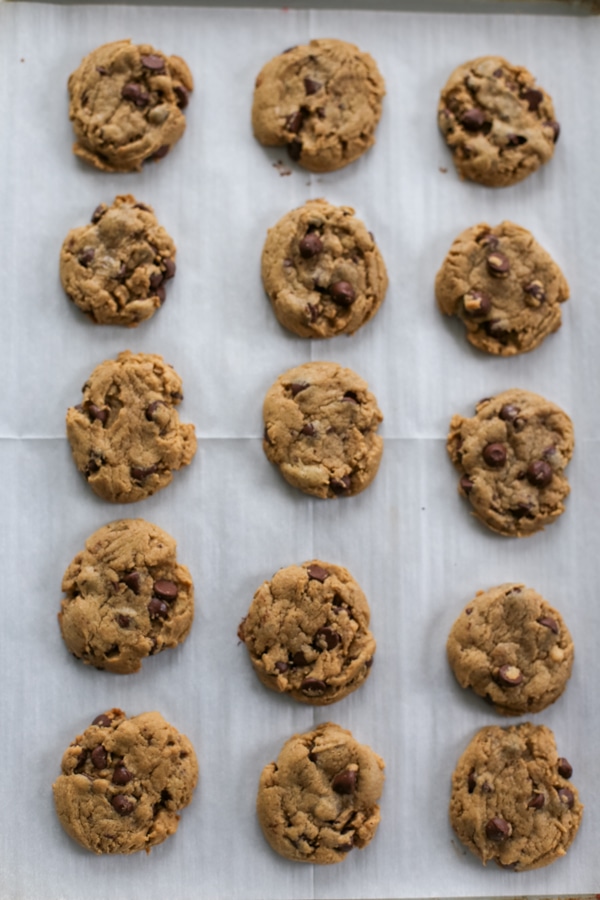 Take the pans out of the oven. Cool them on the cookies sheets for 10 minutes and then transfer them to wire racks to cool completely.
How do you store soft peanut butter cookies?
These cookies can been stored in an airtight container at room temperature for up to 1 week, but trust me they won't last that long.
They can also be frozen for up to 2 months.
Recipe Variations
I like to use creamy peanut butter, but you can also use crunchy peanut butter if you want to add a little texture.
For the chocolate chips, use your favorite like semisweet, milk chocolate chips, or dark chocolate chips.
Or, change the chocolate chips for peanut butter chips! You could also do a mix of both.
Instead of baking chips, try the same amount of chopped nuts like peanuts, almonds, or walnuts.
Tips for the Best Cookies
When you add the dry ingredients to the butter mixture, don't over mix. Once the flour is absorbed into the wet ingredients stop mixing and then fold in the chocolate chips.
Don't overbake the cookies. They are ready to take out of the oven when they look a little undone – they should be set around the edges, but the center may look a little under baked. Once they cool they will be perfectly yummy once they're set!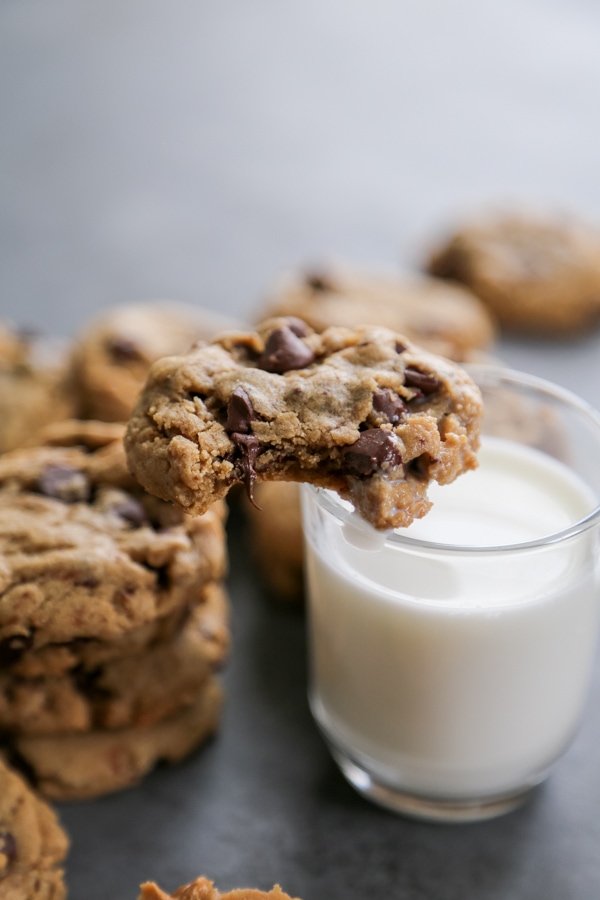 These really are the BEST Peanut Butter Cookies with Chocolate Chips and I can't wait for you to make a batch. Enjoy! XOXO San
More Favorite Cookie Recipes
Don't forget to pin this to your favorite Pinterest board for later.