This is a sponsored post written by me on behalf of Safeway. All opinions are 100% mine.
Learn how to make the best-roasted carrots using your air fryer. These Air Fryer Carrots have a sweet touch with a drizzle of honey. Easy and delicious, I enjoy these as a snack or with a meal.
Thanks to Safeway and the just for U® program I was able to stock up and save + be rewarded. I have all my favorite vegetables to try all in my air fryer.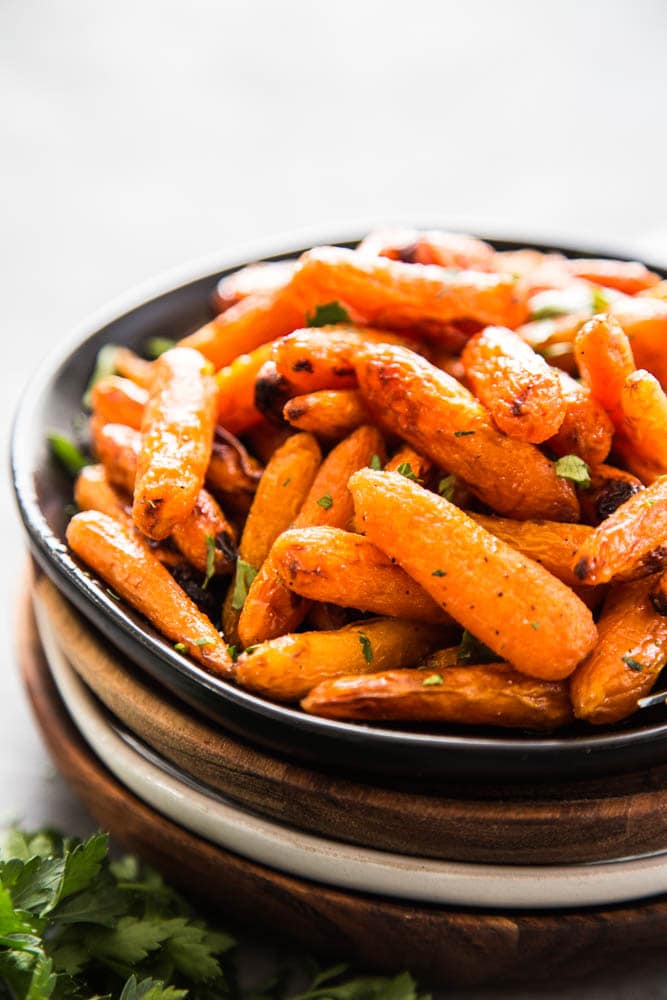 Currently, my entire family is obsessed with our air fryer. It's used daily. At lunchtime the kids cook up chicken nuggets, mini pizzas, nachos, you name it, it has been made.
It's not only great to make meals in, like Air Fryer Crispy Honey Chicken or a side dish, like Air Fryer Breakfast Potatoes.
This past Christmas I was telling my sister-in-law about our air fryer, she grinned ear to ear listening to me going on and on. So I went on Amazon and quickly ordered her one.
As she started to use it she would message and tell me what they were making. The second day she tried air frying veggies, she said the carrots were amazing and so easy to do. I had to try it and I was thrilled I did. These baby carrots are not only drool-worthy to look at, but they're also even more incredible to eat.
What's great about these roasted carrots, is that you can make them sweet or savory, really it is your choice. What I love about the air fryer over roasting them in the oven is the amount of time.
A pound of baby carrot fits well in any traditional air fryer, I have a larger one and can easily manage 2 pounds of baby carrots.
just for U® Rewards
I got everything for these air fryer carrots at my favorite local Safeway. They're currently running an Our Best For Less promotion means able to earn 3X Rewards points through just for U® when they spend $10 or more on participating exclusive Own Brands items. *The program will run from 1/1/21 –2/9/21.
You can sign up for free at j4Urewards.coms to get all the details – trust me, you don't want to miss out on all the perks!
Once you visit the page, sign up in the bottom right box on your screen and you'll be the first to know about new offers and rewards.
Be sure to also follow Safeway on Twitter, Facebook and Instagram!
Easy Glazed Carrots in the Air Fryer
Making carrots in the air fryer is an absolute dream. The best part is that there is no waiting for the oven to preheat. Plus the air fryer makes it so easy and the clean-up is simple.
The carrots are lightly oiled and seasoned. Another bonus of using the air fryer to roast any vegetables is that you hardly need any oil, to get that same texture that you do roasting vegetables in the oven.
Ingredients
I love to use baby carrots but this is only because of convenience, you could easily use normal carrots and cut them into slices and get the same delicious taste, but why add all that effort?
I season them with salt and pepper. Then finish off with a drizzle of honey.
How to Cook Carrots in the Air Fryer
Always consult your air fryer's guide for cooking tips. Every model is a little different, but this is how I do it and it works perfectly every time:
Set the temperature to 380 degrees on the air fryer.
Place the prepared carrots inside and cook them for 18 minutes.
For the best results, toss the carrots every five minutes or so. This will ensure they cook evenly.
Right before you about to serve drizzle with a little honey and cook for another 1-2 minutes in the air fryer to give them a nice golden glaze.
Serve them hot from the air fryer.
What to Serve Them With
What I love best about this side dish (or snack) is that they go with so many dishes. Here are some ideas you might like to try:
Don't forget to pin this recipe to your favorite Pinterest board for later.
Print Recipe
Air Fryer Carrots
Ingredients
1

lb

Signature SELECT® baby carrots

1

teaspoon

Signature SELECT® olive oil

1/4

teaspoon

salt

1/8

teaspoon

Signature SELECT® pepper

2

teaspoons

Signature SELECT® honey

optional

parsley

finely chopped, optional garnish
Instructions
Place carrots in a medium bowl and toss with olive oil, salt and pepper.

Place in the air fryer basket and cook at 380 degrees Fahrenheit for 15 minutes, shaking every 5 minutes.

Once done, drizzle with honey and toss. You can either remove them from the air fryer basket or you can cook it for another 1-2 minutes. Top with parsley for a simple garnish.

Save