Flaky and tender homemade biscuits are so easy to make. All you need are five ingredients to make a batch!
If you think biscuits are hard to make, this recipe is for you! With just five ingredients you can make warm, flaky, delicious biscuits. They're amazing with a pat of butter and spoonful of jam or serve them as a side dish for breakfast, lunch, or dinner.
My grandmother always called these "baking powder biscuits" but I call them the super-easy-to-make biscuits! They're the ones I grew up eating and now I make these easy biscuits for my family – they never disappoint!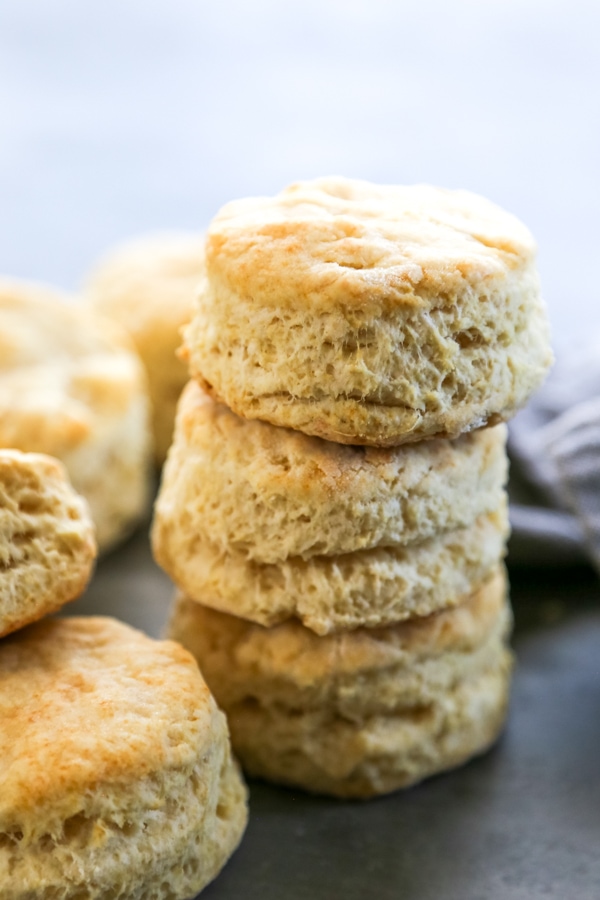 The Best Homemade Biscuits
The best biscuits are tender and flaky and this recipe delivers on both! The best part is that it's not difficult to make a batch. I make these in the morning for breakfast and sometimes for dinner, too. Believe me, once you try it, this will be your go-to biscuit recipe from now on.
With so few ingredients (you only need five!), it's important to use the best ones and so for this recipe, I always lean on my trusted Crisco® All Vegetable Shortening and Clabber Girl® Baking Powder.
Both make a huge difference in how the biscuits turn out – combine them with the other essentials and you'll make a batch of biscuits that no one will forget.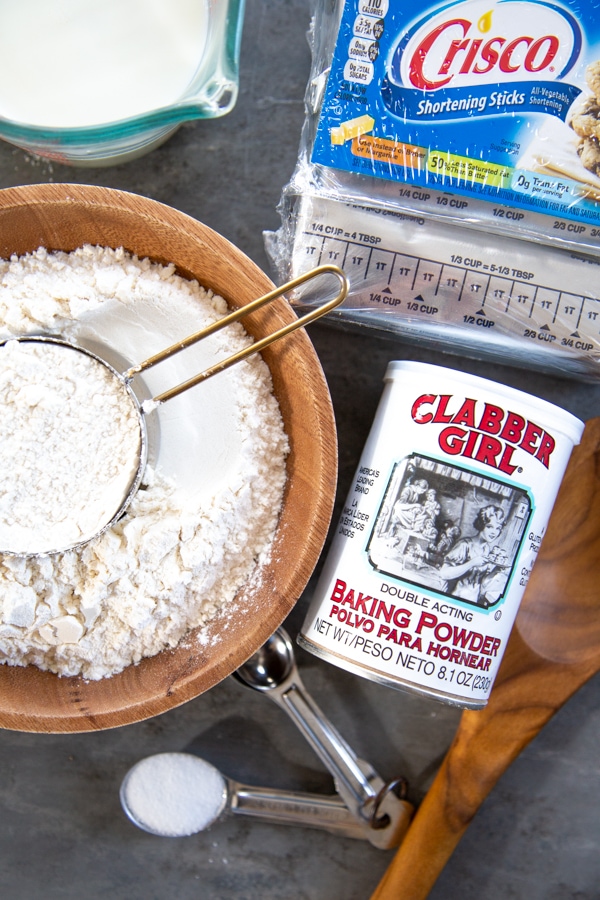 Ingredients
Clabber Girl Baking Powder is the #1 brand of baking powder in America and is trusted by so many bakers – including me! It not only helps your biscuits puff up while they bake, but it also gives them a lighter texter. You won't end up with dense and tough biscuits when you use it.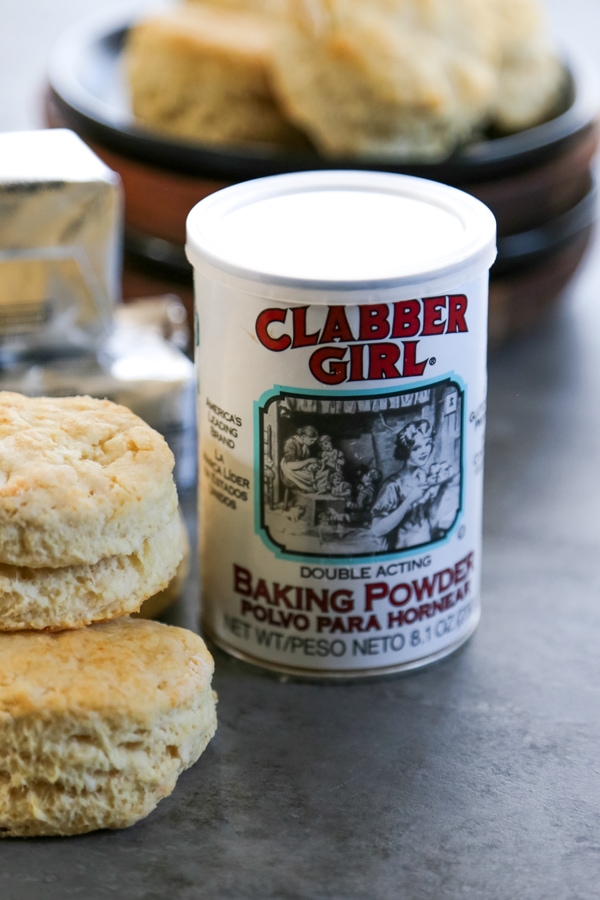 Crisco All-Vegetable Shortening is my other go-to ingredient. I love biscuits made with shortening because they are lighter and more tender. Plus, it's an ingredient I use often so I always have it on hand. It's so versatile – cooks and bakers have been trusting this brand for 100 years!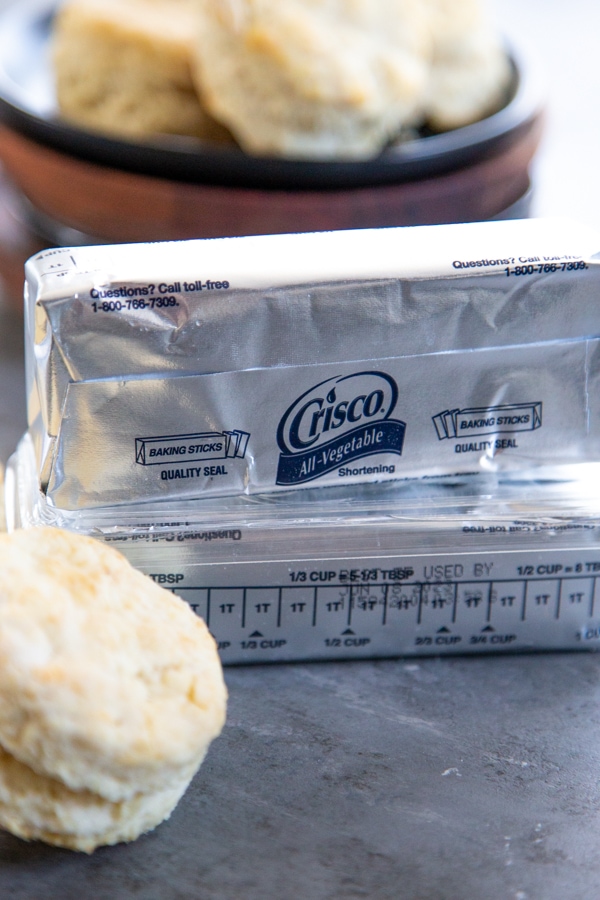 I lean on both of these products all through the year, but especially during the holiday season when I am baking more than usual. For these biscuits, you'll want to stock up because I know you'll want to make them on repeat like we do!
Recipe Steps
Sift the flour, baking powder, and salt into a large mixing bowl. You can do this with a traditional sifter or use a fine-mesh strainer. Sifting helps mix the dry ingredients and also lightens the flour.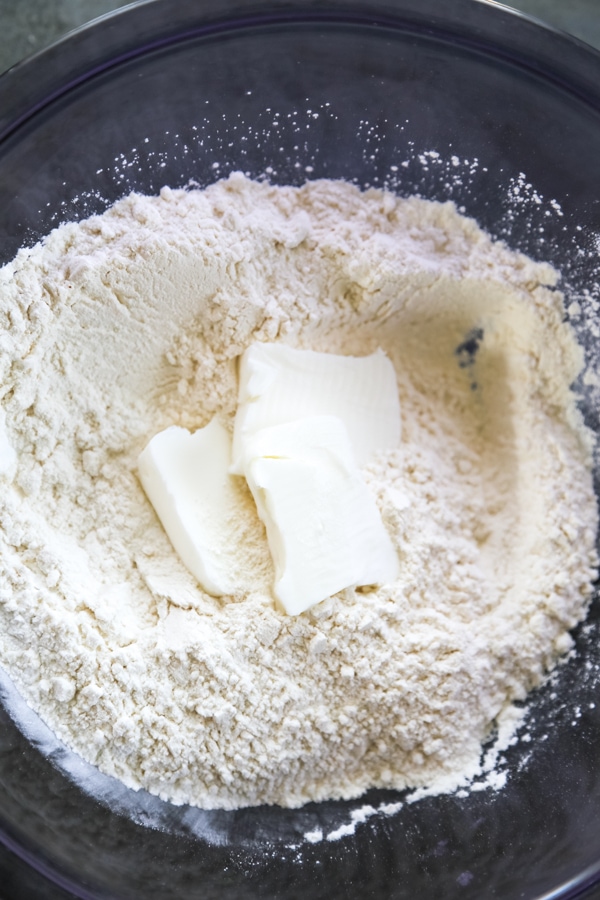 Next, add the shortening to the dry ingredients. I just add slices, but you can also cut the shortening into chunks before adding it.
Cut the shortening into the dry ingredients. The easiest way to do this is with a pastry cutter or you can use a fork.
Work it into the flour mixture until it resembles a coarse crumble. This method of mixing is what creates the flaky layers in the biscuits.
Add the milk and mix until just combined. You don't want to overmix the dough – just knead it long enough until the flour is absorbed into the milk and a dough forms.
Gather the dough into a ball and transfer it from the bowl to a lightly floured work surface.
Using a rolling pin, roll the dough out so it's 1/2″ thick.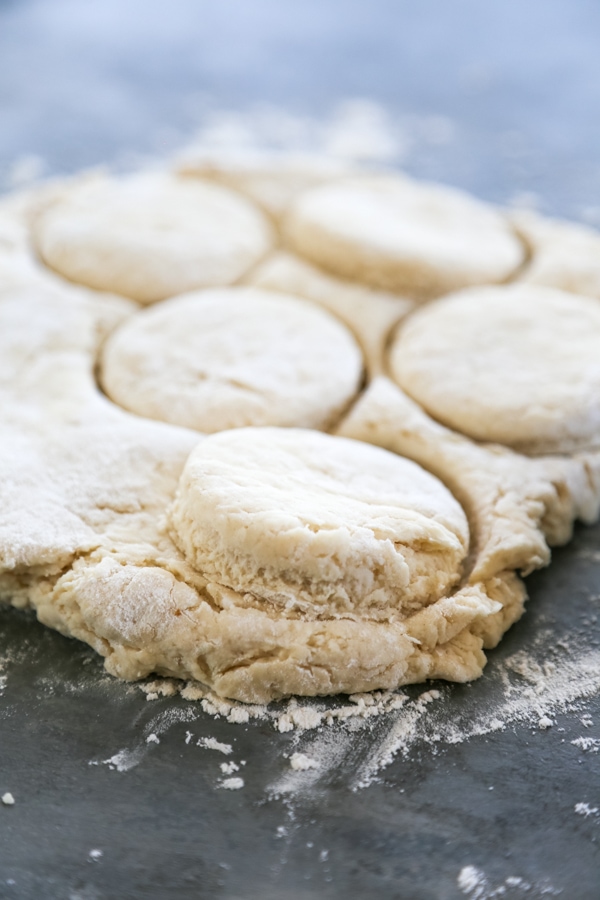 Use a 2″ or 3″ biscuit cutter to cut out the rounds. Place them on a baking sheet lined with parchment paper.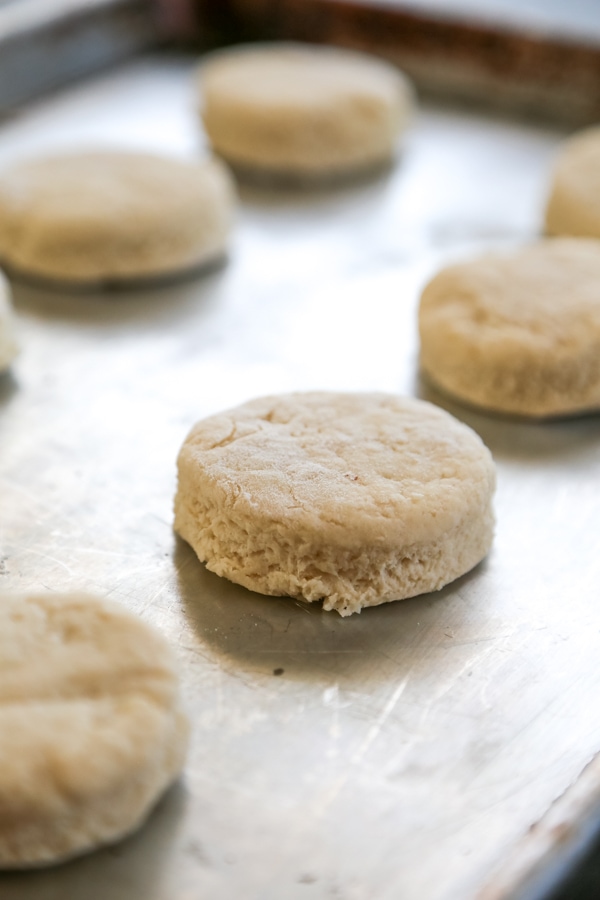 Bake the biscuits for 10 to 12 minutes or until they are light golden brown.
Serve them warm from the oven with some butter brushed over the tops.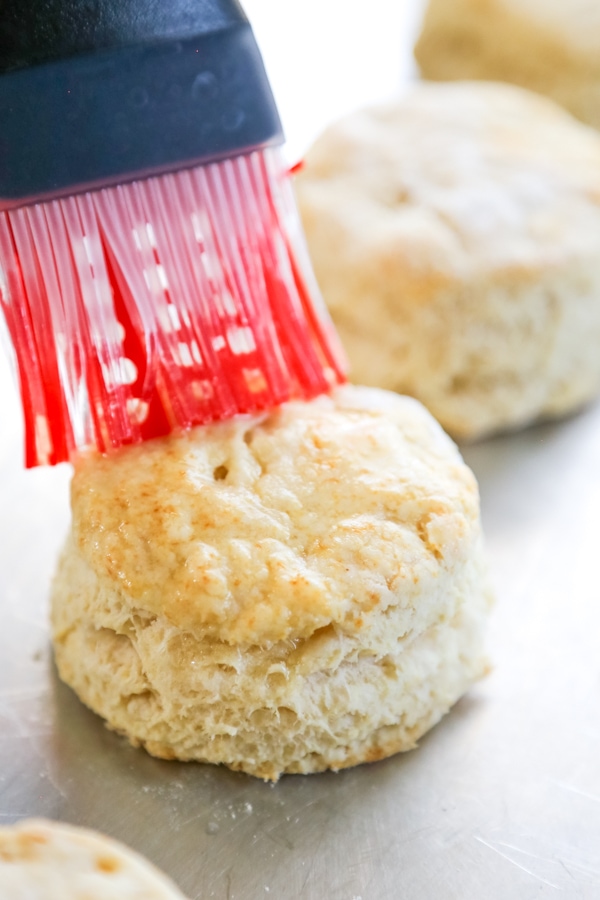 Recipe Tips
Use cold shortening: This will make it easier to cut it into the dry ingredients so you get those pockets of shortening. When the biscuits bake, that's what will create the best flaky layers.
Type of milk: Whole milk will add fat and more flavor to your biscuits than 2% milk. Both will work, so choose your favorite.
Don't overmix: The secret to light and tender biscuits is to not overmix the dough. If you overwork the flour it can impact the texture, so mix just until the dough forms. When you cut out the biscuits, try to cut as many out as you can so you don't have to reroll the dough.
Storage: There's nothing better than a warm biscuit straight from the oven! But, if you have leftovers, they will keep in an airtight container at room temperature for a few days.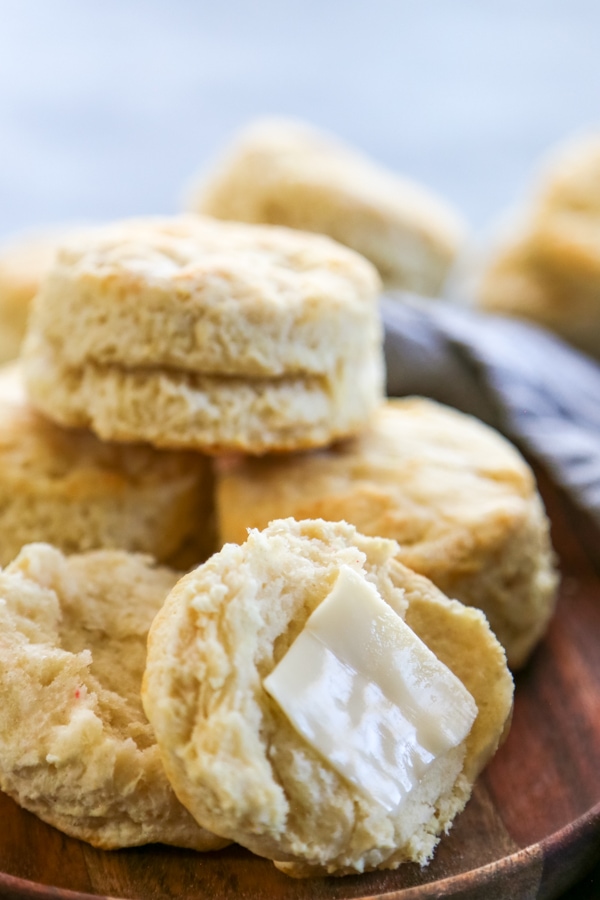 With Crisco and Clabber Girl Baking Powder you can bet you're going to have an amazing batch of biscuits! I've been making this recipe for years and it always turns out perfectly.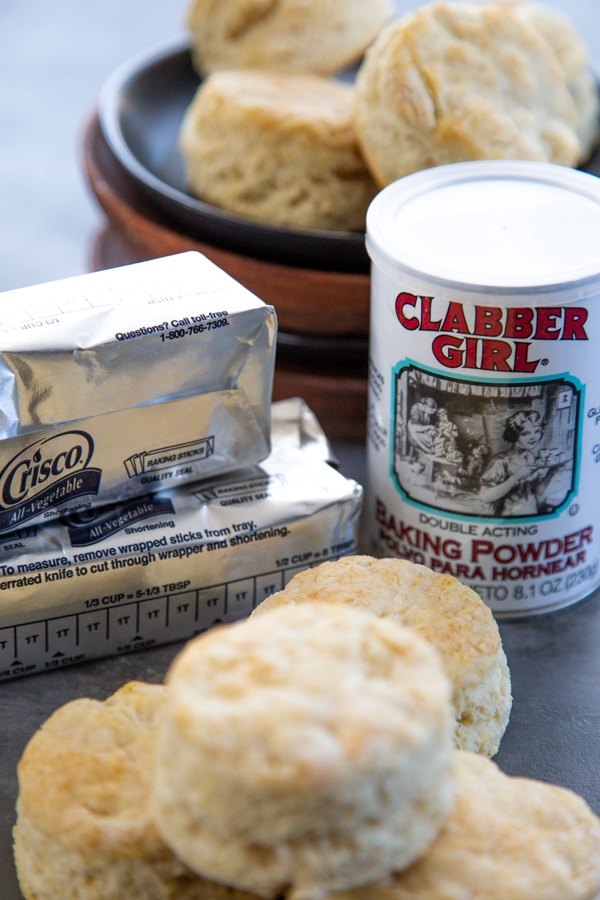 So, don't forget to stock up on Clabber Girl Baking Powder and Crisco the next time you're at the store. They're pantry staples at my house and they will be at yours once you give this easy biscuit recipe a try! Enjoy! XOXO San
More Recipes to Try
Don't forget to pin this to your favorite Pinterest board to save for later!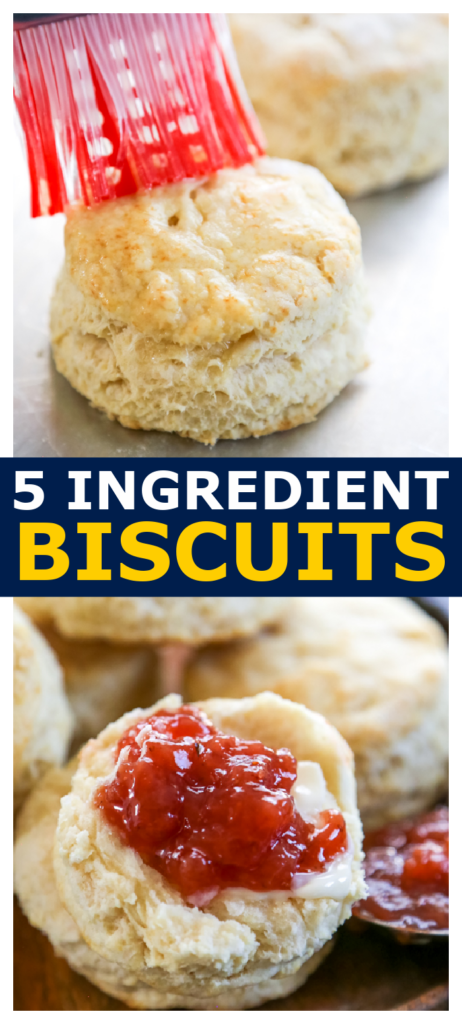 Print Recipe
Biscuits
Flaky and tender homemade biscuits are so easy to make. All you need are five ingredients to make a batch!
Ingredients
2

cups

flour

4

teaspoons

baking powder

1

teaspoon

salt

4

tablespoons

shortening

3/4 – 1

cup

milk
Instructions
Preheat oven to 425 degrees Fahrenheit

Sift together flour, baking powder, and salt.

Using a pastry blender or a fork, cut shortening into the flour mixture until it resembles a coarse crumble. Mix in milk until combined.

Knead dough until it is smooth and fully combined. Place on a lightly floured surface and roll out until it's 1/2" thick.

Using a 2 3/4 inch biscuit cutter, cut out into rounds and place on a parchment lined baking sheet.

Bake for 12-14 minutes or until light golden brown.
Nutrition
Serving:
1
g
|
Calories:
150
kcal
|
Carbohydrates:
21
g
|
Protein:
3
g
|
Fat:
6
g
|
Saturated Fat:
2
g
|
Trans Fat:
1
g
|
Cholesterol:
2
mg
|
Sodium:
246
mg
|
Potassium:
221
mg
|
Fiber:
1
g
|
Sugar:
1
g
|
Vitamin A:
24
IU
|
Vitamin C:
1
mg
|
Calcium:
102
mg
|
Iron:
1
mg

Save