With the holiday season fast approaching, now is the time to start thinking about what festive treats you'll be serving. Why not try one of these 50 Best Holiday Candies if you're stuck for ideas?
From classic favorites like peanut brittle and peppermint bark to creative treats like chocolate-dipped candy canes, these simple recipes will make your holiday celebrations extra sweet. With a wide variety of flavors, textures, and colors, there's something for everyone! If you want to wow family and friends, try making homemade candies. Not only are they delicious, but it's a great way to show loved ones how much you care. So get ready to indulge in the festive fun with these 50 Best Holiday Candies!
Happy holidays! Enjoy all the sweetness that comes with it. Whether you're looking for an easy recipe or a traditional treat, we hope you find something right for your celebration.
I've always loved making treats for friends, family, and neighbors. Growing up, one of my favorite Christmas traditions was going out and caroling to our friends and neighbors on Christmas Eve. I'm glad I have continued this tradition with my kids and husband.
I love making a list of people we will visit during Christmas. The only problem is that there are too many people we want to sing to and give treats to. So, some years we narrow it down, and other years, we break it up for a week or longer. But every time, regardless of when it is, people smile when they see us coming. My kids love doing this too. I am sure there will come a time when they moan and groan about having to do this but looking back on these memories, I think they will treasure them as much as I do now.
Look no further if you're looking for sweets to take to this year's holiday parties or fill your goodie bags. Here are 50 of the best holiday candies around.
Whether you're looking for an easy treat or one to impress, this list has something for everyone. Try making homemade candies to show your loved ones how much you care, or shop for pre-made treats; it's sure to be a sweet success! So, what will be on your holiday candy list?
Happy holidays and enjoy every bit of sweetness that comes with it! <3
More Holiday Round-ups
50 of the Best Holiday Appetizers – 50 of the Best Appetizer Recipes for the Holidays that will impress your guests. Everything from easy to elegant, we have you covered.
50 of the Best Holiday Cookies – Get into the holiday spirit by baking some (or all!) of these 50 delicious Christmas cookies. Your friends and family will be so impressed, and they'll love you for it!
50 of the Best DIY Christmas Decorations – Check out these 50 DIY Christmas decorations that will get you and your family into the holiday spirit without emptying your wallet.
Don't forget to pin these holiday ideas to your favorite Pinterest board for later.
Caramel Pecan Turtle Fudge, A Dash of Sanity
Caramel Pecan Turtle Fudge is a delightful holiday sweet that shouldn't be limited to only once a year. I eat it all year long!
Peppermint Bark, Sally's Baking Addiction
This easy and delicious white chocolate and semi-sweet chocolate bark is flavored with peppermint and crushed candy canes.
White Chocolate Caramel Pecan Fudge, Barefeet in the Kitchen
This festive fudge is made with creamy white chocolate, pecans, and caramel. It's the perfect addition to your holiday treat tray!
Grandma's Peanut Brittle, A Dash of Sanity
One of my favorite holiday traditions is making my Grandma's Peanut Brittle. This classic treat, which pairs salty and sweet flavors, is easier to make than you might think.
Easy Red Velvet Fudge, A Dash of Sanity
Delicious, effortless fudge- what more could you ask for? With only 8 ingredients and made in the microwave, this red velvet fudge is a holiday must-have.
Homemade Turtles, Averie Cooks
These homemade chocolate turtles are fast and easy to make, with just 4 ingredients! They're chewy and gooey, with the perfect balance of salty and sweet. And they taste even better than store-bought turtles!
Soft Chewy Caramel Candies, The Kitchn
These make some of the best gifts, whether it's Christmas time, someone's birthday, a way to say thank you for a favor, or even a thoughtful hostess gift. There doesn't always have to be an occasion – sometimes the best gifts are given for no reason.
English Toffee, A Dash of Sanity
Making this English Toffee is a quick, simple process that results in a delicious, buttery-caramel candy. It is then topped with chocolate and nuts, becoming an irresistible Christmas tradition my family enjoys yearly.
Cream Cheese Mints, Mandy's Recipe Box Blog
Perfect for after dinner or as a gift, these Cream Cheese Mints are delicious!
Peppermint Truffles, House of Yumm
These easy peppermint truffles only require four ingredients and are sure to impress your guests! The creamy peppermint white chocolate ganache center is coated with more chocolate and drizzled with extra white chocolate, making it the perfect Christmas dessert.
White Chocolate Peanut Butter Fudge, Dash of Sanity
Only four ingredients stand between you and total chocolate-peanut butter ecstasy.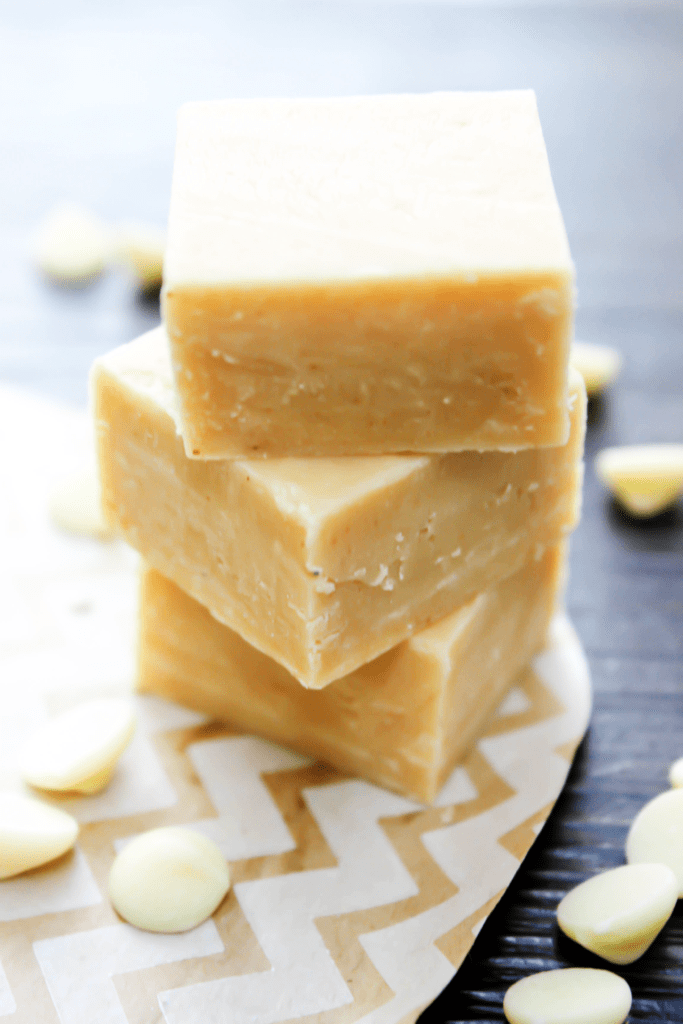 Copycat Butterscotch Squares, Crazy For Crust
Butterscotch Squares are undoubtedly my favorite of all the See's Candy flavors, so this is a must-make.
Peanut Butter Toffee Bark, Dash of Sanity
Peanut Butter Toffee Bark is an incredibly delicious peanut butter snack that takes less than 30 minutes to make.
Buttermints, Splendid Table
Homemade Andes Mints, Ashlee Marie
What better way to usher in the season than with a batch (or two) of homemade candy? These Andes Mints are my go-to — but feel free to get creative with other flavors, too.
Chocolate Walnut Fudge, Dash of Sanity
This chocolate walnut fudge recipe is perfect for the holidays. Made with three kinds of chocolate and walnuts, it's creamy and delicious.
Chocolate Peanut Butter Balls, She Wears Many Hats
If you're looking for a classic that will beat anything in the candy aisle, look no further than these Chocolate Peanut Butter Balls.
No-Bake Peanut Butter Bars, Dash of Sanity
Chocolate Peanut Butter Bars are an easy no-bake dessert bar. Decadent and delicious, everyone will want a slice of these treats!
Easy Chocolate Caramel Bites, Crunchy Creamy Sweet
If you're looking for an easy and delicious holiday treat, look no further than these chocolate caramel pretzel bites! They're the perfect gift for any lover of chocolate and caramel.
Eggnog Truffles, Taste and Tell
These eggnog-flavored white chocolate truffles make the perfect Christmas gift!
Pecan Pie Toffee Bark, A Dash of Sanity
Pecan Pie Toffee Bark is a crispy caramel chocolate bark topped with candied pecans, making a traditional pie into an easy to make, delightful candy treat.
Soft Chocolate Caramels, Mel's Kitchen Cafe
Adding creamy chocolate to these soft caramels makes them into a fudge-like consistency that will delight anyone's taste buds. And what says Christmas more than caramel!?
Buckeye Fudge, Barefeet in the Kitchen
Buckeye Fudge is the delicious result of combining peanut butter fudge with velvety, dark chocolate fudge.
Polar Bear Paws, Garnish and Glaze
Looking for something special to share with your friends and family this holiday season? Why not try Polar Bear Paws? These DELICIOUS treats are filled with salty roasted peanuts and soft, buttery caramel, all coated in sweet white chocolate. YUM!
Rum Balls, Alexandra Cooks
Look no further than rum balls if you're looking for an easy, delicious, and festive cookie to make and gift during the holiday season. They take no time to whip together, require no baking, and can be made ahead of time and frozen.
Chocolate Peppermints, She Wears Many Hats
Not only do these homemade Chocolate Peppermints look delicious, but they're also easy to make!
Melted Snowman Bark, Tater Tots and Jello
With only a few ingredients, this Winter Melted Snowman Bark recipe is perfect for making with the kids! They'll have so much fun creating snowman faces while making it.
Chocolate Caramel Marshmallows, Domestically Blissful
Not only are Chocolate Caramel Marshmallows delicious, but they become more heavenly when you add a sprinkle of chocolate sea salt.
White Chocolate Ting-a-Lings, Lemon Tree Dwelling
If you're looking for a festive and delicious holiday treat, look no further than White Chocolate Ting-a Lings! These sweet and salty snacks are perfect for any holiday party or gathering.
No Bake White Chocolate Peppermint Oreo Truffles, Recipe Rebel
With only four ingredients, these White Chocolate Peppermint Oreo Truffles are a breeze to make and great for your holiday baking trays!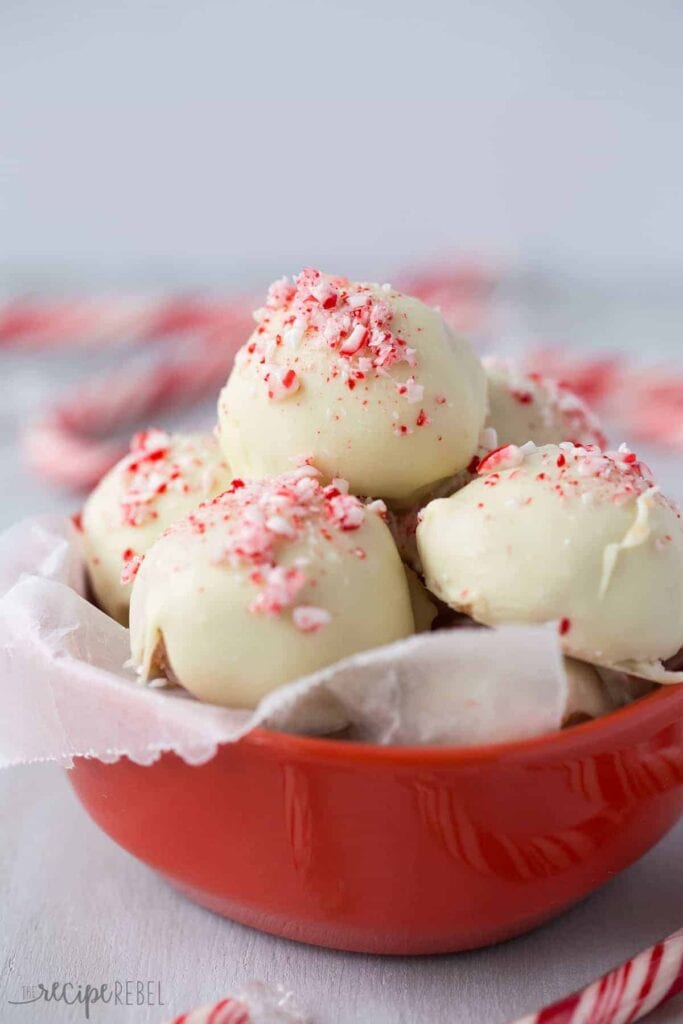 Peppermint Patties, The Gunny Sack
These easy-to-make Homemade Peppermint Patties are tastier than the store-bought ones, but they're also cool and minty on the inside with smooth chocolate on the outside.
Pomegranate Pistachio Ginger Bark, Nutmeg Nanny
Try this pomegranate pistachio ginger bark recipe for a sophisticated take on candy!
Easy Homemade Divinity Candy, The Domestic Rebel
This homemade divinity is mouth-watering! It's fudgy, smooth and delectable, and much easier to make than you would think!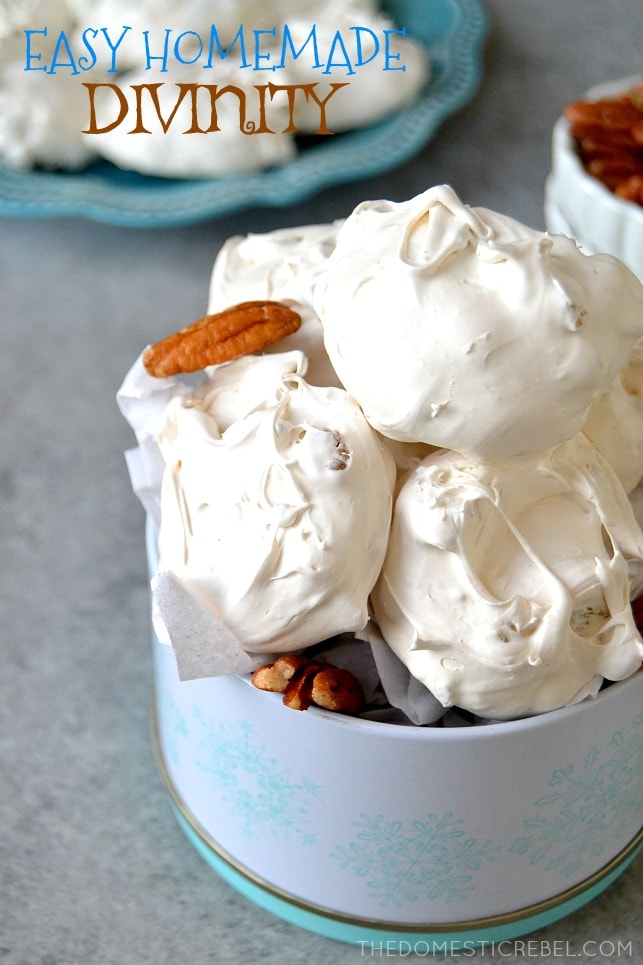 Mint Oreo Truffles, Deliciously Sprinkled
These indulgent mint chocolate truffles are made with only 5 ingredients and a few quick steps. They have everything you're looking for in a dessert and be warned… You can never have just one!

 Fleur de Sel Caramels, Table and Teaspoon
Easy, delicious caramel that everyone loves.
Goodie Goodie Gumdrops, Bakerella
Delicious and beautiful homemade gumdrops.
Easy Homemade Candy Lollipops, Just a Taste
You can make these delicious and popular Homemade Lollipops with only three ingredients.
Homemade Twix Bars, The Girl Who Ate Everything
Homemade Twix Bars are the perfect combination of sweet and salty, with a shortbread crust, caramel center, and chocolate coating.
Old Fashion Peppermint Taffy, Taste of Home
This taffy recipe is a favorite among my family, bringing back many cherished memories.
5-Ingredient Whiskey Dark Truffles, Gimme Some Oven
A combination of chocolate and whiskey is the best gift for those happy hour friends.
Dark Chocolate Salted Caramel Dipped Marshmallows, Baker By Nature
This easy, decadent recipe combines my all-time favorite treats – dark chocolate, salted caramel, and marshmallows. Top the melted chocolate with a sprinkle of crushed graham crackers, and you've got a bite-sized s'more treat that will quickly become one of your favorites!
Chocolate Peanut Butter Cup Bark, Love and Olive Oil
Treat yourself to this delicious, three-ingredient recipe that satisfies any chocolate and peanut butter cravings. It's beautifully swirled with peanut butter and topped with mini peanut butter cups – what more could you ask for?
 Sparkling White Chocolate Lemon Truffles, How Sweet Eats
Stunning and a real crowd-pleaser, these lemon truffles are delightful for everyone to enjoy.
Easy Christmas Peppermint Patties, Mom On Timeout
This Christmas Peppermint Patties recipe is so easy, anyone can make it! It's also fantastically festive and always a hit with kids and adults.
Homemade Marshmallows, Pint Sized Baker
With a stand mixer, some patience and this recipe, you can easily make homemade marshmallows.
Nutella Truffles, Deliciously Yum
Start your holidays off right with these Nutella chocolate truffles!
White Chocolate Almond Truffles, The Recipe Critic
These truffles are a cinch to make with just a few ingredients.
Thin Mint Oreo Cups, Chelsea's Messy Apron
Oreo crumbs, crushed peppermint and mint chocolate baking chips mixed together create a delightful peppermint-chocolate flavor. These easy cups require no baking and only three ingredients!
Pistachio Bark, She Wears Many Hats
This simple Pistachio Chocolate Bark Recipe will be a hit at your next holiday party, or make the perfect edible present to share.
 Salted Almond Brittle, Dessert For Two
This salty and crispy treat is perfectly crunchy and can easily be doubled to make more. It's a great holiday gift or snack to have around during tree trimming!
White Chocolate Peppermint Pretzels, Lil Luna
If you're looking for a last-minute holiday gift that's both unique and easy to make, these White Chocolate Peppermint Pretzels are perfect!
Raspberry Cheesecake Truffles, OMG Chocolate Desserts
Make your holidays extra particular this year with homemade raspberry cheesecake truffles!
Caramel Nougat Pecan Rolls, The Food Charlatan
This delicious candy log is made with the sweetest vanilla nougat, wrapped up in soft buttery caramel, and covered in pecans. It's the perfect treat for Christmas!
Candy Cane Hearts, Glorious Treats
These delightful candy cane hearts are one of my beloved feel-good Christmas foods!
Coconut Cream Truffles, Crazy For Crust
I love truffles, and they all taste better with coconut. If you're a fan like me, you will love these Coconut Cream Truffles!
Easy Chocolate Peanut Butter Fudge, Barefeet In The Kitchen
If you love the taste of peanut butter and chocolate together, this Chocolate Peanut Butter Fudge will be your new favorite holiday treat!