Easy & delicious these (healthier) Banana Chocolate Chip Muffins are simple to make and ready in 30-minutes. Making a great breakfast or snack, really this is the only banana muffin recipe you'll ever need!
Banana muffins with chocolate chips are great for an indulgent treat, especially with a nutritious twist. Adding in greek yogurt provides a little protein while maintaining the moistness of the muffins. These muffins are made without butter or refined sugar!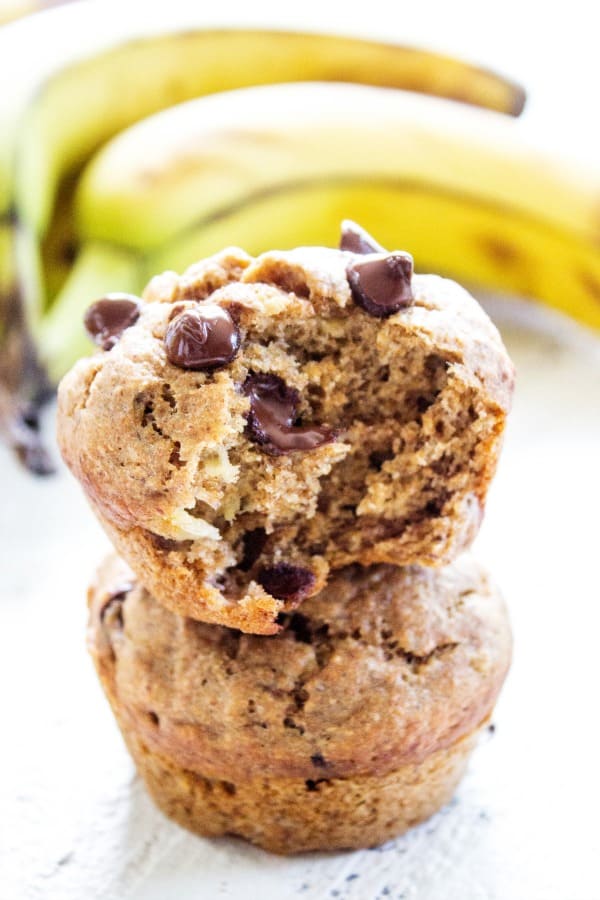 I am, as you already know if you have been following along with me for a while, slightly muffin obsessed.
While I am not about to eliminate sugar, I will start taking some of our favorite recipes and giving them a healthy facelift.
This recipe for banana chocolate chip muffins has some extra protein from the greek yogurt and is naturally sweetened with honey and bananas — okay, plus a few chocolate chips because chocolate chips make everything better.
After trying these, you'll understand why they'll become an after-school/afternoon treat for when you or others get a little sweet tooth and need something to kick the craving. They're still packed with delicious flavor, and of course, I add flaxseed as a healthier alternative (but no one needs to know about that).
Ingredients for banana muffins with chocolate chips
Whole Wheat Flour
honey
Unsweetened Almond Milk
olive oil (extra virgin works too)
Ripened bananas, smashed – about 3 whole
1 egg
Vanilla extract or Pure Maple Syrup
Ground cinnamon
Greek yogurt or sour cream
Baking soda
Salt
Semi-Sweet Chocolate Chips
Flax seed
Tips for banana muffins
Can I freeze muffins?
Yes, that is once they have cooled! Store in a Ziplock freezer bag with as little air as possible, you can freeze them for up to 3 months. Just remove from the freeze to eat, and reheat from frozen in the microwave in 15-second increments. Or you can let them at room temp or overnight in the fridge.
How do I know if my bananas are ripe enough to bake with?
The best banana flavor and natural sweetness come from very ripe bananas with brown spots, which also allows us to use less added sugar in these. So be sure to get your bananas REALLY ripe with lots of brown spots!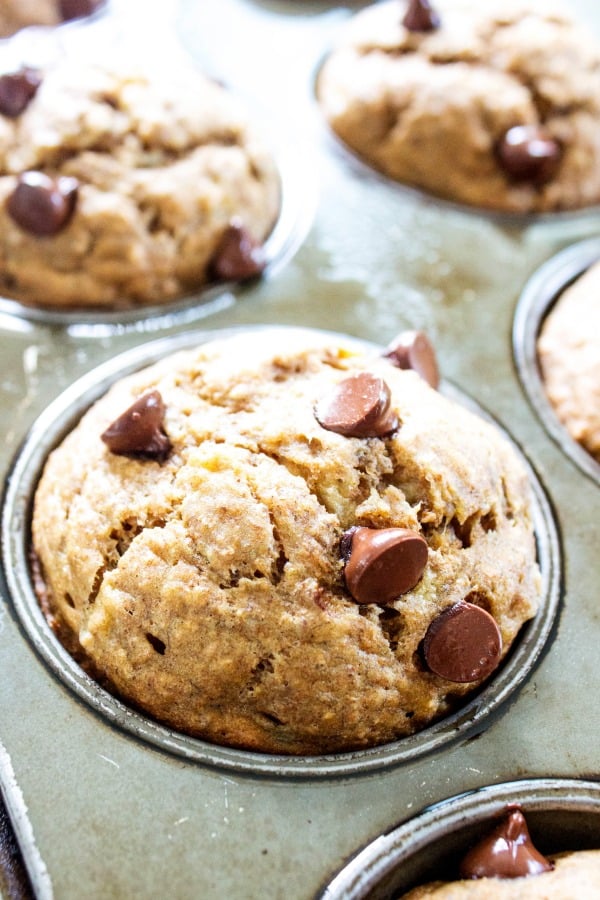 If you like this recipe, you might also like:
Zucchini Chocolate Chip Muffins
Banana Blueberry Muffins
Skinny Chocolate Banana Muffins
Whole Wheat Morning Glory Muffins
Pumpkin Cream Cheese Muffins
Don't forget to pin this recipe for BANANA CHOCOLATE CHIP MUFFINS to your favorite Pinterest board for later.
Print Recipe
Healthier Banana Chocolate Chip Muffins
Easy, delicious & healthy, these Healthier Banana Chocolate Chip Muffinsare ready in 30 minutes, making a great breakfast or snack.
Ingredients
1 1/2

cups

O Organics Whole Wheat Flour

1/4

cup

O Organics honey

1

tablespoon

O Organics Unsweetened Almond Milk

1

tablespoon

O Organics olive oil (extra virgin works too)

1 1/2

cups

ripened bananas, smashed – about 3 whole

1

egg

2

teaspoons

vanilla extract or O Organics Pure Maple Syrup

1/2

teaspoon

ground cinnamon

1/2

cup

Greek yogurt or sour cream

1

teaspoon

baking soda

1/4

teaspoon

salt

1/3

cup

O Organics Semi-Sweet Chocolate Chips

1/4

cup

O Organics Semi-Sweet Chocolate Chips

for topping, optional

2

tablespoons

flax seed
Instructions
Preheat oven to 350 degrees F.

Spray 12 cup muffin tin with olive oil cooking spray & set aside.


In a medium mixing bowl, combine flour, baking soda, cinnamon, flax seed and salt.

In a small mixing bowl, whisk together bananas, almond milk, egg, yogurt (or sour cream), olive oil, honey, and vanilla extract (or maple syrup).

Whisk until well combined & then stir into flour mixture.

Stir flour and yogurt mixture until well combined. Fold in 1/3 cup of chocolate chips.

Divide batter evenly into muffin tin & top with remaining 1/4 cup chocolate chips, sprinkling a few onto of each muffin batter. Place in preheated oven and bake for 20-22 minutes.

Allow muffins to cool for 5-10 minutes in muffin tin. Then remove and cool on a baking rack. Devour immediately or store in a sealed container once cooled.

Save