Montmorency Tart Cherry Salsa combines the perfect blend of sweetness and tanginess. This salsa recipe is made with Montmorency Tart cherries, other fresh ingredients, and herbs, like red onion, cilantro, and jalapeno. This recipe will add a burst of vibrant flavor to your meals. Whether you pair it with grilled chicken fish tacos or enjoy it with tortilla chips, this Cherry Salsa is sure to impress.
This post is in partnership with the Utah Red Tart Cherry Marketing Board.
Not only is it a fantastic twist on the classic salsa, but it also incorporates the goodness of sour cherries – trust me, they're the ingredient that takes this salsa to a whole new level of deliciousness!
Montmorency Tart Cherries
I highly recommend seeking out and exclusively using Montmorency tart cherry products grown in the United States for this recipe! Montmorency tart cherries, also known as sour cherries, are the predominant variety of tart cherries cultivated in the U.S. You can find them in dried, juice, canned, and frozen forms throughout the year. In my preparation, I used this cherry in this salsa recipe.
I was asked to join a group of farmers, influencers, and producers in Utah, where the Montmorency Tart Cherries flourish, and it indeed was an educational and enriching experience. Utah offers a unique opportunity as the second-largest grower of these vibrant and tangy cherries. From exploring picturesque orchards to discovering the processes behind cherry production, this trip to Utah deepened my appreciation for their role in local communities and delectable creations.
Why Sour Cherries?
Now, you might be wondering why sour cherries specifically. Well, let me tell you, these little ruby-red gems are bursting with flavor! Their tartness contrasts the other salsa ingredients and creates a delicious blend of sweet and tangy. Plus, sour cherries are rich in antioxidants and have a unique tang that adds depth to your dishes. They are indeed nature's gift to our plates.
Health Benefits of Cherries: Nature's Little Superfruits!
These tiny red jewels are a delight to snack on and offer unique nutritional perks. So, let's dive into the sweet world of cherry benefits your body will thank you for!
1. Joint Comfort and Pain Relief
Cherries, known for their vibrant red color, are a great source of anthocyanins, which have strong anti-inflammatory effects. Eating cherries regularly can help reduce inflammation and ease joint pain, making them a fantastic choice for those dealing with discomfort and arthritis. Treat your joints to some love while enjoying these delicious fruits!
2. Antioxidant Powerhouse
Cherries contain antioxidants like vitamins C and A, which neutralize free radicals and promote glowing skin. Enjoy the delicious benefits of cherries for a vibrant and youthful body!
3. Aiding Better Sleep
Cherries can improve your sleep due to their natural melatonin content. Studies show that consuming tart cherry juice can enhance your sleep quality and duration. So next time you struggle to sleep, try cherries or cherry juice for a better night's rest.
4. Heart Health Support
Cherries are not only delicious but also heart-friendly. Packed with antioxidants and potassium, they help lower bad cholesterol, reduce blood pressure, and decrease the risk of heart disease.
What you need to make Cherry Salsa
16 ounces frozen sour cherries
sugar
Granny Apples
red onion
jalapeno
fresh cilantro
salt
One lime
One Clementine orange
Fruit juice: orange, cherry, or kiwi
What is the best way to store homemade salsa?
Cherry salsa is best enjoyed fresh but can be stored in an airtight container in the fridge for 2-3 days. While it may still taste good, the texture may deteriorate over time.
Freeze homemade sauce in resealable containers or ziplock bags, divided into individual portions for easy defrosting.
More cherry-inspired recipes:
Pin this to your favorite Pinterest board to save for later!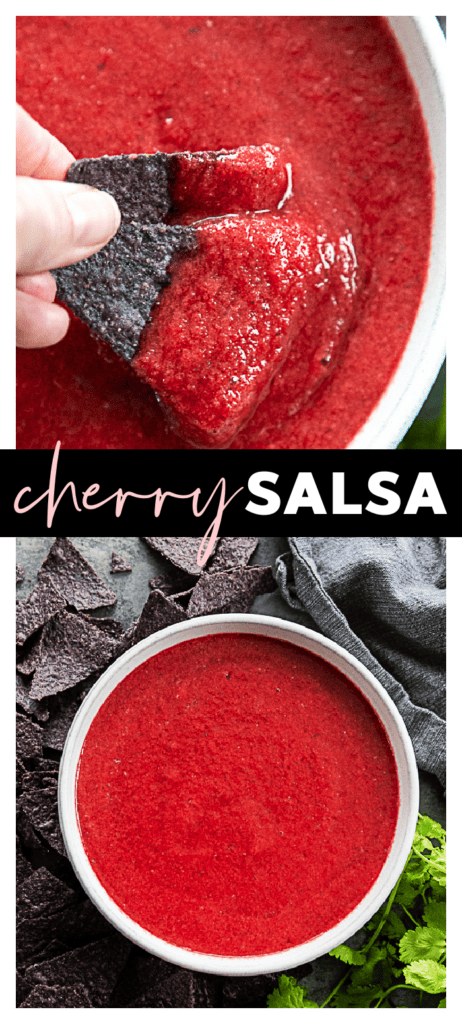 Print Recipe
Cherry Salsa
Cherry Salsa combines the perfect blend of sweetness and tanginess. This salsa recipe is made with sour cherries, other fresh ingredients and herbs, like red onion, cilantro, and jalapeno.
Ingredients
16

ounces

frozen sour cherries

1/3

cup

sugar

2

Granny Apples

1/2

red onion

1

jalapeno

1/2

cup

cilantro

1/4

teaspoon

salt

1

lime

zest & juiced

1

Clementine orange

1/2

cup

fruit juice

orange, cherry, or kiwi
Instructions
Let the cherries thaw slightly – they should still be cold but not frozen solid.

Peel and core apples and cut them into wedges.

Remove skin from onion and cut into wedges.

Remove half of the seeds and halve the jalapeno.

Add cherries, onion, apples, cilantro, sugar, juice, salt, lime zest, Clementine, and lime juice to a large food processor or blender and blend until pureed.

Pour into a large bowl or mason jar and seal tightly with a lid.

Allow to refrigerate for at least 1 hour before serving.

Enjoy with salted tortilla chips.
Nutrition
Calories:
209
kcal
|
Carbohydrates:
54
g
|
Protein:
2
g
|
Fat:
1
g
|
Saturated Fat:
0.1
g
|
Polyunsaturated Fat:
0.1
g
|
Monounsaturated Fat:
0.1
g
|
Sodium:
150
mg
|
Potassium:
437
mg
|
Fiber:
5
g
|
Sugar:
45
g
|
Vitamin A:
303
IU
|
Vitamin C:
23
mg
|
Calcium:
33
mg
|
Iron:
1
mg

Save