Learn how to make homemade croutons in your air fryer! Flavored with seasonings and so simple to make, you'll skip the store-bought ones from now on.
Air Fryer Croutons are so simple I can't believe I haven't been making them this way already! My dad introduced me to this easy air fryer method – just season bread cubes, toss them in the air fryer, and five minutes later you have crunchy delicious homemade croutons for salads and soups.
The possibilities are endless with this recipe from the bread you use to the seasonings. I can't wait to show you how easy it is!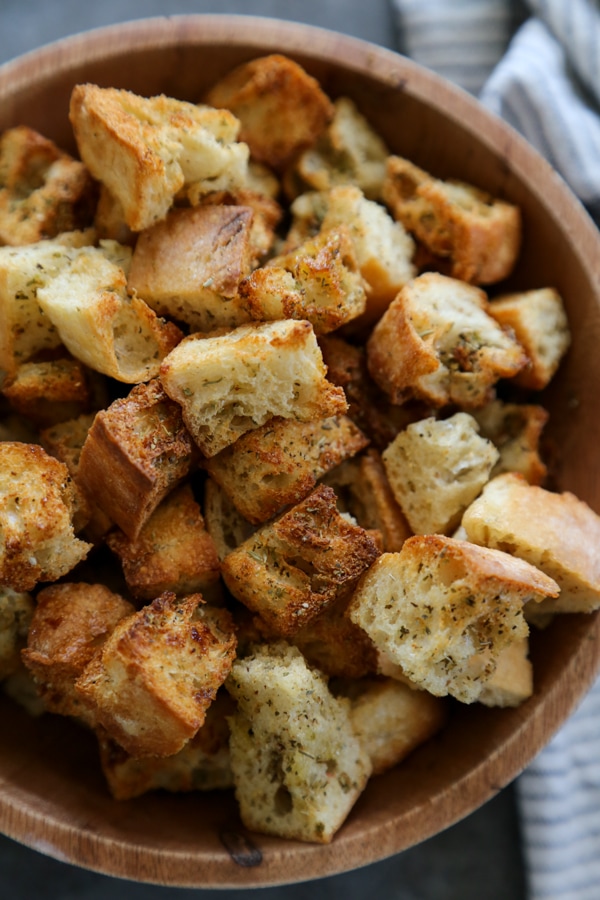 Easy Air Fried Croutons
I just love my air fryer and these crunchy, crispy croutons are my new favorite thing to make in it. For me, a salad is not complete without some crispy bread and these air fryer croutons are so much better than the ones at the store.
First, you can use pretty much any kind of bread that you like! I love sourdough and ciabatta but you can even use simple sliced sandwich bread to make these crispy bites.
Second, the flavor options are endless – I like to use Italian seasoning and garlic powder, but you can easily customize the flavors to your heart's content. You are only limited by what's in your spice drawer!
Third, I love not turning on the oven if I don't have to – especially when it's warm.
Toss these crunchy croutons in your favorite salad – we love them with a chopped wedge salad, arugula salad, Caesar salad, and BBQ chicken ranch salad.
Or, make a delicious soup – we love tomato soup – and garnish it with your homemade croutons.
I cannot stress enough how much better these are than the packaged ones. Plus, they take all of 10 minutes to make from start to the finish.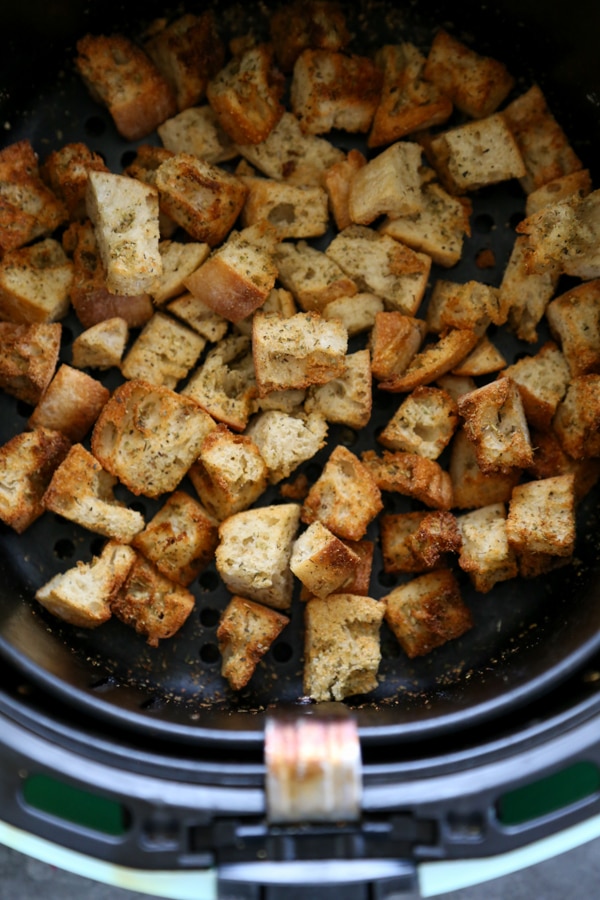 Ingredients
Ciabatta cut into cubes
Dried Italian seasoning
Garlic powder
Onion powder
Olive oil
Other types of bread you can use: Try French bread, sourdough bread, baguette, Texas toast, whole wheat bread, or white bread – there are just a few ideas!
How to Make Croutons in an Air Fryer
Place the bread cubes in a large bowl.
In a small mixing bowl, mix the Italian seasoning, garlic powder, onion powder, and olive oil.
Pour the seasoning mixture over the bread cubes and toss to evenly coat them.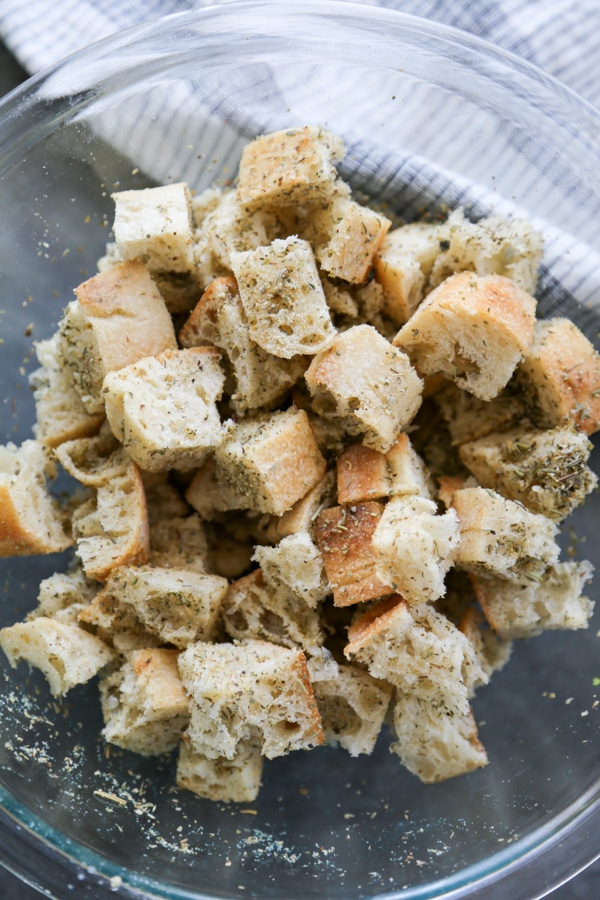 Place half of the seasoned bread cubes in the air fryer basket. Coat them lightly with cooking spray.
Cook them for two to three minutes at 400°F and then flip them over. Cook them for two to three minutes more or until they're golden brown and crispy. Repeat with the rest of the bread.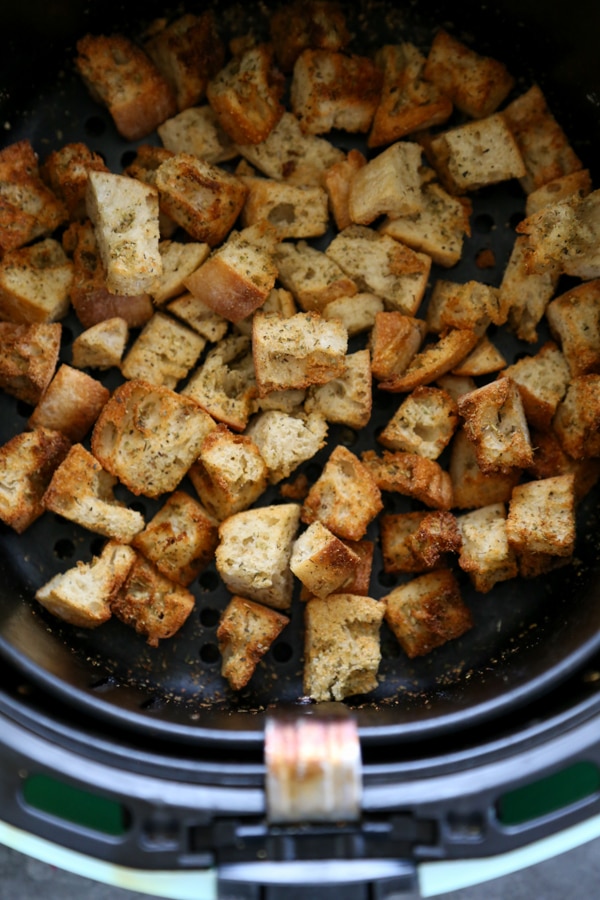 Different Ways to Use Them
Salads: Browse all of my favorite salad recipes to get lots of ideas!
Soup: Top your favorite bowl of soup with some delicious homemade croutons. I have all kinds of soup recipes you should check out.
Breadcrumbs: Use your croutons to make homemade breadcrumbs. Once they've cooled, place them in a food processor and pulse to break them down into fine crumbs. Use them to make delicious Italian meatballs or as a topping for tuna noodle casserole!
Should you use stale bread?
Stale bread or leftover bread is often used – it's a great way to use it up! But, you don't have to use stale bread. The air fryer dries out fresh bread so it gets nice and crunchy. So don't feel like you need to wait to make your croutons.
How do you keep homemade croutons crispy?
Wait until the croutons are completely cooled before you store them. If you store them warm, they will release steam that will soften them.
Be sure to store them in an airtight container or sealed bag at room temperature. As long as they are not exposed to air they should keep well for up to two weeks!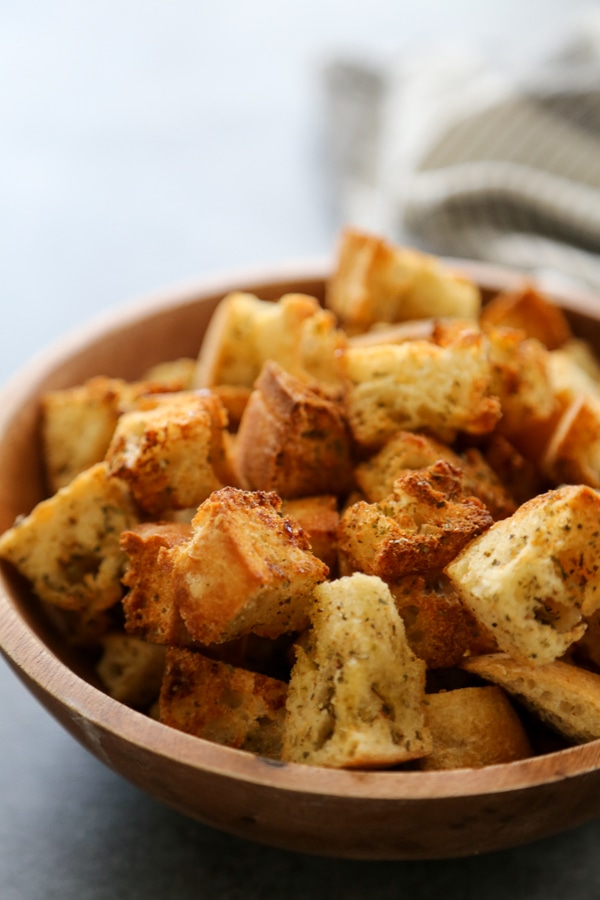 Variations
Want to change the flavor? Here are some spices and seasoning combos you might like to try:
Lemon Pepper Croutons: Use lemon pepper seasoning and olive oil.
Air Fryer Garlic Croutons: Garlic powder and olive oil.
Taco Croutons: Toss the bread cubes in your favorite taco seasoning!
French Onion Croutons: Use some Herbes de Provence, onion powder, and olive oil.
Cheese Croutons: Lightly coat the bread with olive oil and finely grated Parmesan cheese.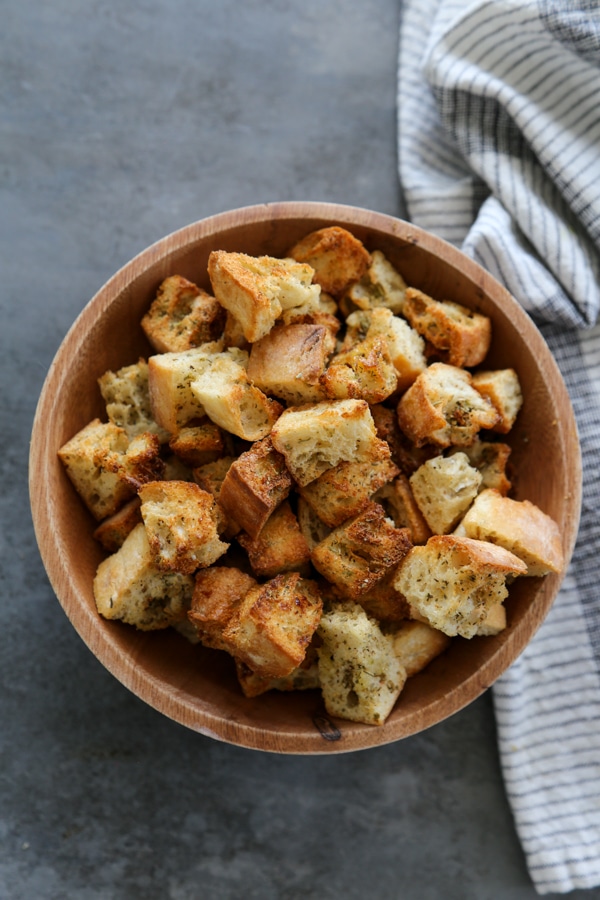 I have my dad to thank for this genius croutons recipe – sometimes it's the most simple things that make such a difference! And these crunchy delicious bites will take your salads to a whole new level – give them a try soon, friends! XOXO San
More Easy Air Fryer Recipes
Don't forget to pin this recipe to your favorite Pinterest board for later.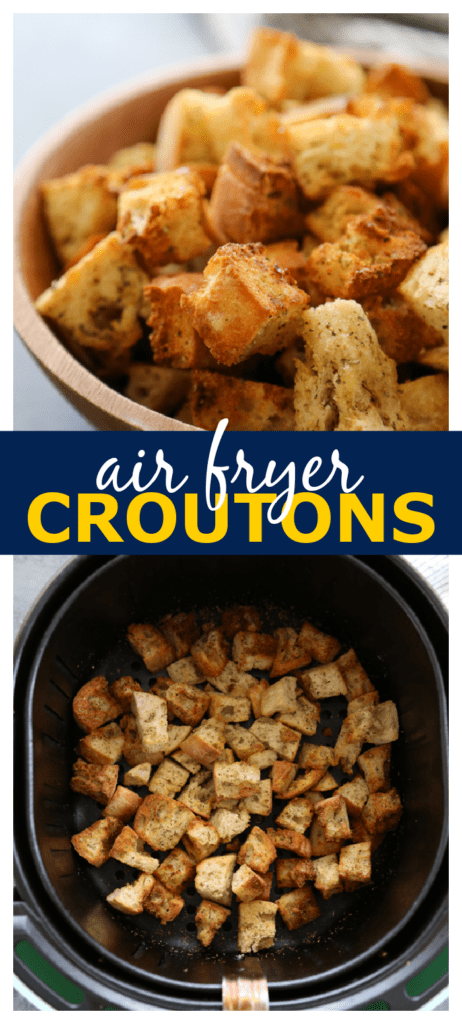 Print Recipe
Homemade Air Fryer Croutons
Learn how to make homemade croutons in your air fryer! Flavored with seasonings and so simple to make, you'll skip the store-bought ones from now on.
Ingredients
1

loaf

ciabatta

found in the bakery section, mine was 14 oz.

4

tsp

Italian seasoning

1

tsp

garlic powder

1

tsp

onion powder

olive oil cooking spray
Instructions
Roughly slice ciabatta loaf into cubes and place in a large bowl.

Mix seasonings together and add to bowl with bread pieces. Toss together until evenly coated.

Add half the cubes to the air fryer basket and lightly spray with olive oil cooking spray. Heat to 400°F and cook for 2-3 minutes and then flip them. Cook another 2-3 minutes or until golden brown and crisp. Repeat with the remaining croutons.
Nutrition
Serving:
0.5
cup
|
Calories:
118
kcal
|
Carbohydrates:
24
g
|
Protein:
4
g
|
Fat:
1
g
|
Saturated Fat:
1
g
|
Sodium:
244
mg
|
Potassium:
20
mg
|
Fiber:
1
g
|
Sugar:
1
g
|
Vitamin A:
17
IU
|
Vitamin C:
1
mg
|
Calcium:
17
mg
|
Iron:
1
mg

Save