Friends, you're only ten minutes from peanut butter and caramel euphoria. Ten minutes is all it takes to make this Peanut Butter Caramel Sauce!

I am pretty much obsessed with peanut butter and have been since childhood. Our family to-go-to breakfast was peanut butter and jelly toast with bananas. I craved this most of my pregnancies and shocking that all of my kids except one are huge peanut butter fan. So you can imagine that this Peanut Butter Caramel Sauce is a huge hit in our home.
Jersey claims to hate peanut butter, yet her favorite cookies, No Bake Cookies are made with peanut butter and she loves my Chocolate Peanut Butter Fondue. So I think she just hates PB&J's.
My husband loves peanut butter as well, in fact, his late-night indulgence includes peanut butter, maple syrup and pecans heated up in a bowl and devoured with a spoon. I will have to admit it is a pretty amazing combination.
I wanted a peanut butter caramel sauce for this tart  Chocolate Peanut Butter Caramel Tart I was making, as I knew it would be the perfect finishing touch! After two failed attempts trying others recipes, I decided to just adapted one of my caramel sauce recipes and see if I could make it happen and guess what? I did.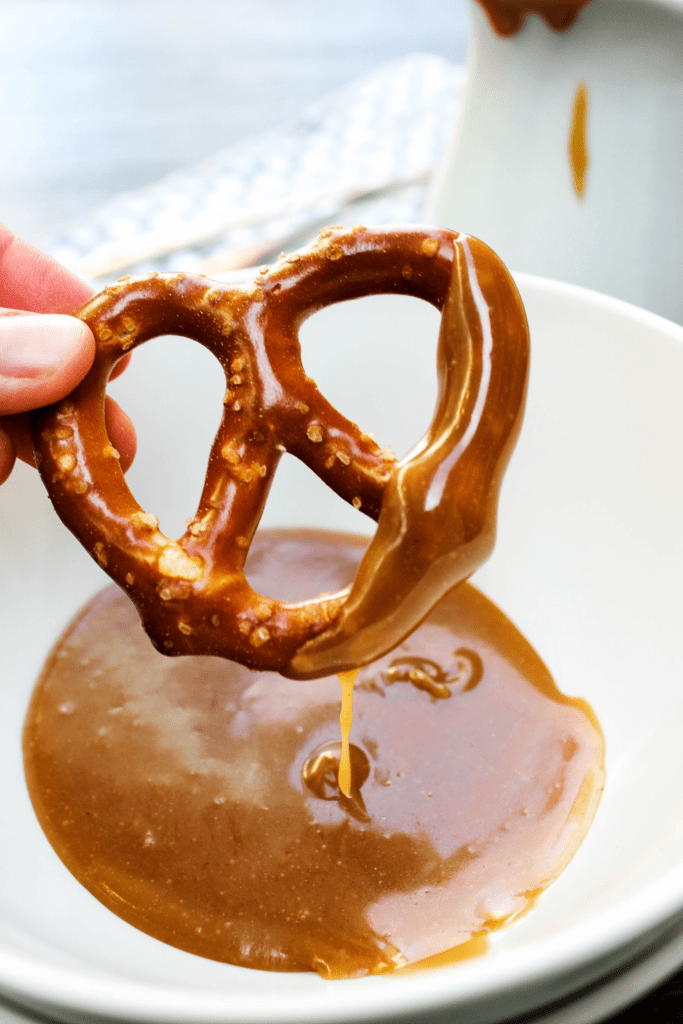 I used my White Chocolate Caramel Sauce recipe, one of my favorite sauces EVER! I just substituted the white chocolate with peanut butter and I got the perfect caramel sauce. What I love about this Peanut Butter Caramel Sauce the most is that it only takes 10 minutes total to make. Serve it over ice cream, with pretzels, cookies or even as a fondue your family, friends and even your acquaintances will love this sauce, devouring every last drop.
Before I move onto the recipe I feel like you should be fairly warned that this Peanut Butter Caramel Sauce is addicting.  The first time I made this I immediately had to make a second batch well because I basically ate the entire first batch by myself. Hard to admit but you know what, oh well, there it is I love this caramel sauce. It is a good thing that at the time I didn't have any ice cream in the freezer and that they only thing I could eat this caramel sauce up with were pretzels. I am afraid had I had some ice cream, I would have had to make a third batch.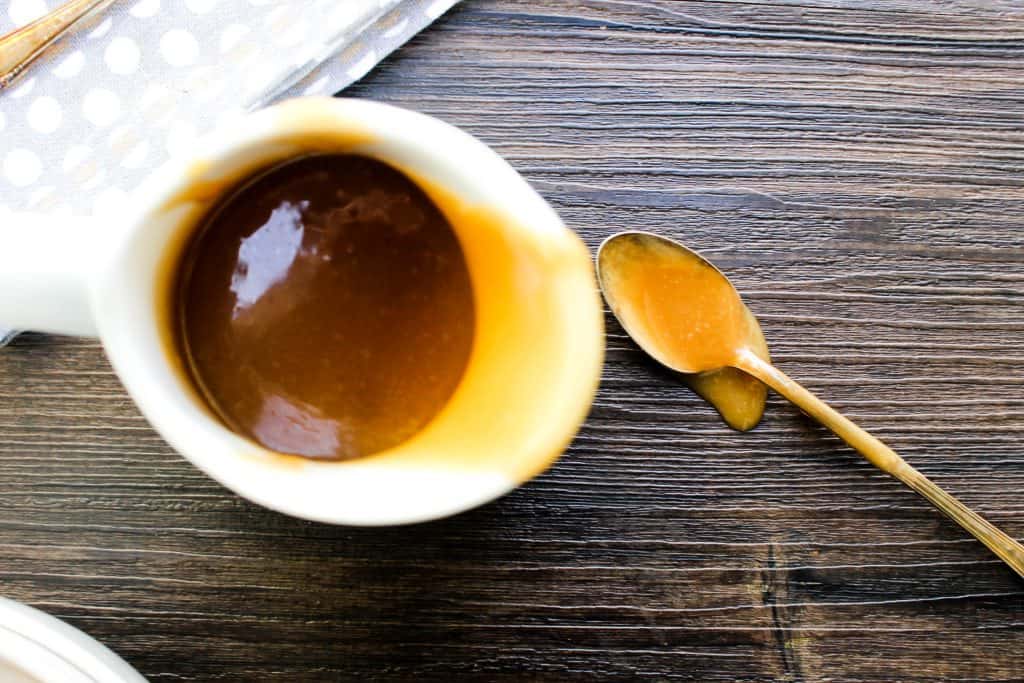 While most people rave about peanut butter and chocolate being the best food combo out there, I think that caramel and peanut butter come in a close second. It's like they were meant to be together. Honestly, friends after this making this Peanut Butter Caramel Sauce I am not sure my Peanut Butter Fudge Sauce stands a chance and that is saying a lot.
If you have 10 minutes and love peanut butter or caramel, this recipe is a must-try. Just remember what I said and make sure to have enough ingredients to make another batch just in case you eat the whole first batch. Enjoy! XOXO San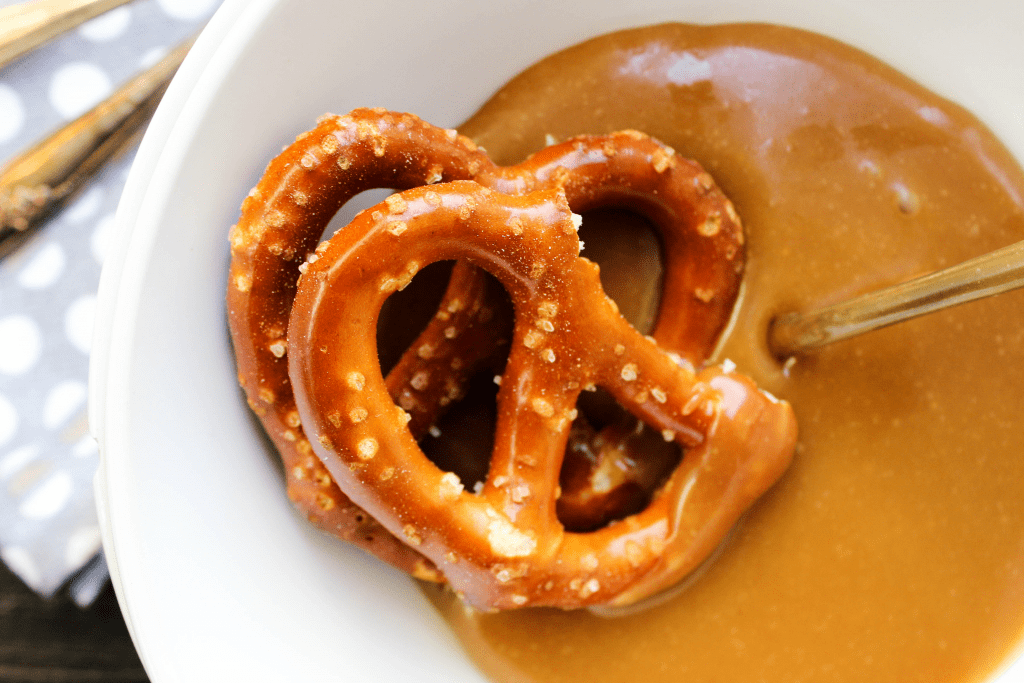 Don't forget to pin this recipes for PEANUT BUTTER CARAMEL SAUCE to your favorite Pinterest board for later.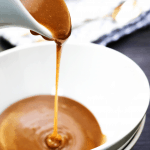 Print Recipe
Peanut Butter Caramel Sauce
Friends, you're only ten minutes from peanut butter and caramel euphoria. Ten minutes is all is takes to make this Peanut Butter Caramel Sauce!
Ingredients
¼

cup

butter

½ stick

1

cup

brown sugar

2

tablespoons

white granulated sugar

½

cup

heavy cream

Pinch

of sea salt

1/3

cup

creamy peanut butter
Instructions
Add all of the ingredients, except for the peanut butter in a medium sauce pan, heat over medium-low heat. Let it cook, while constantly whisking for about 4 minutes. Stir in peanut butter and cook while constantly whisking for another 3-4 minutes. Remove from heat, stir and serve. This caramel sauce you can serve immediately, my preference or let it cool, and refrigerate for later.
Nutrition
Calories:
281
kcal
|
Carbohydrates:
32
g
|
Protein:
3
g
|
Fat:
16
g
|
Saturated Fat:
8
g
|
Cholesterol:
35
mg
|
Sodium:
113
mg
|
Potassium:
117
mg
|
Sugar:
30
g
|
Vitamin A:
395
IU
|
Calcium:
39
mg
|
Iron:
0.4
mg
Recipe updated from original posting date of January 2016.


Save